CRESLI Seal Walks and Research at Cupsogue
The seals are back and so are we, for our 16th consecutive year at Cupsogue, join us
By: A. H. Kopelman, PhD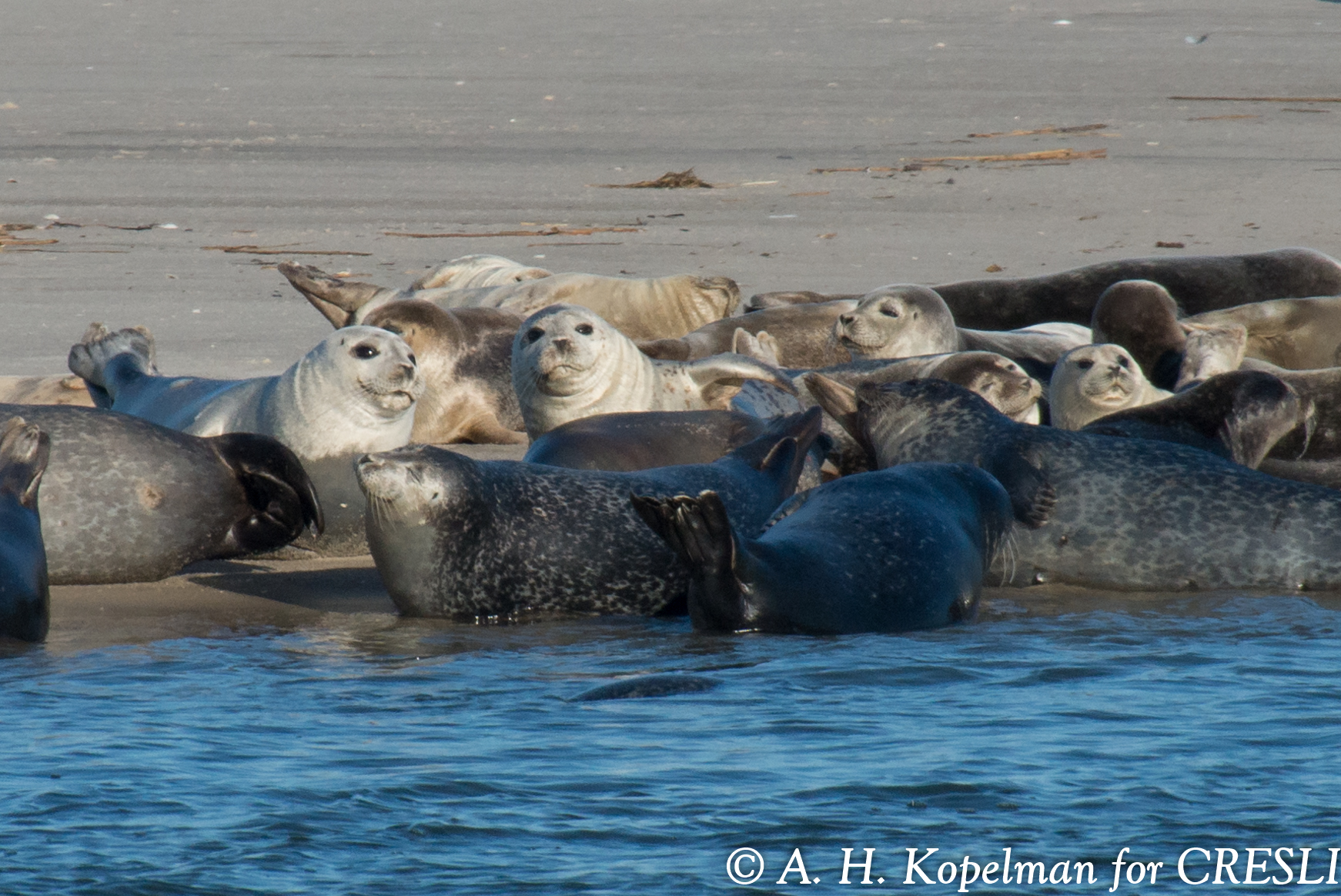 2019-2020 CRESLI Seal Walks at Cupsogue Beach Park begin December 7, 2019
Over 21,000 seal encounters since 2006.
Join us to observe, photograph, and learn about our Long Island's seals.
CRESLI seal walks will take place between November and May. Please note that weather will play a significant role in determining the seal walk schedule. Please call CRESLI at (631) 319-6003 for schedule changes and cancellations. The walks are approximately 1.2 miles round trip and take about 1 to 1.5 hours. These walks are suitable for children.
Please be prepared for the weather, i.e., wear warm clothing in layers. Hats, gloves, warm waterproof shoes are recommended, as are cameras and binoculars. Check the weather for Westhampton Beach and assume that the winds will produce wind chill. It's better to be a more-on, than a less-on, i.e., having more layers than you need is the right thing.
---
2019-2020 SEAL SIGHTINGS AT CUPSOGUE
| Date | Time | Status |
| --- | --- | --- |
| Saturday, November 23, 2019 | SEAL MONITORING SESSION | 5 Harbor seals |
| | | |
| | | |
---
You must register for any CRESLI seal walks (see links below). Registration will enable us to contact you regarding changes and/or cancellations.
Suggested contributions of $5.00 per adult (over 18) and $3 per child (18 and under) will help support CRESLI's ongoing seal research programs.
Seal Walk Registration is required, go to https://forms.gle/28ArTe9YQ6DSWSsU8
---
Pinniped Passes: Season passes for unlimited seal walks are available
---
Seal walk dates are below (click on the date to register)
---
Seal Walk Registration is required, go to https://forms.gle/28ArTe9YQ6DSWSsU8
---
---

---
2019-2020 SEAL SIGHTINGS AT CUPSOGUE
| Date | Time | Status |
| --- | --- | --- |
| Saturday, November 23, 2019 | SEAL MONITORING SESSION | 5 Harbor seals |
| | | |
| | | |
2018-2019 SEAL SIGHTINGS AT CUPSOGUE
Date
Time
Status
Saturday, November 24, 2018
11:30 AM SEAL WALK
2 harbor seals were seen during research monitoring but were unfortunately not seen during the seal walk
Sunday, December 2, 2018
8:00 AM SEAL WALK
Canceled due to weather
Monday December 3, 2018
RESEARCH TRIP

77 harbor seals

Saturday, December 8, 2018
11:30 AM SEAL WALK

93 harbor seals

Sunday, December 16, 2018
7:00 AM SEAL WALK
Canceled due to weather
Monday December 17, 2018
RESEARCH TRIP

53 harbor seals

Saturday, December 22, 2018
10:30 AM SEAL WALK

34 harbor seals

Sunday, December 23, 2018
11:30 AM SEAL WALK

24 harbor seals seen during monitoring. Just before arrival for our walk, the seals were chased off the sandbar by a vessel approaching too closely. Please keep your distance from seals

Thursday, December 27, 2018
RESEARCH TRIP

53 harbor seals

Sunday, December 30, 2018
7:00 AM SEAL WALK

120 harbor seals

Thursday, January 03, 2019
RESEARCH TRIP

110 Harbor seals

Saturday, January 5, 2019
11:00 AM SEAL WALK
canceled due to weather
Wednesday, January 16, 2019
RESEARCH TRIP

132 harbor seals

Thursday, January 17, 2019

SEAL WALK FOR

SOUTH OCEAN MIDDLE SCHOOL

132 harbor seals

Friday, January 18, 2019

SEAL MONITORING WITH

WALDORF SCHOOL OF GARDEN CITY

117 harbor seals

Saturday, January 19, 2019
10:00 AM SEAL WALK

123 harbor seals

Sunday, January 20, 2019
10:30 AM SEAL WALK
Canceled due to weather
Saturday, February 2, 2019
10:00 AM SEAL WALK

105 harbor seals

Sunday, February 3, 2019

10:30 AM SEAL WALK

52 seals hauled out early on the sand bar; they were flushed later and about 20 ultimately hauled-out on the near shore rocks

Saturday, February 16, 2019
9:00 AM SEAL WALK

122 harbor seals

Sunday, February 17, 2019
10:00 AM SEAL WALK

118 harbor seals

Friday, February 22, 2019
RESEARCH TRIP

92 harbor seals

Saturday, March 2, 2019
9:00 AM SEAL WALK

20 harbor seals

Sunday, March 3, 2019
9:00 AM SEAL WALK

92 harbor seals

Saturday, March 16, 2019
9:00 AM SEAL WALK

91 harbor seals

Sunday, March 17, 2019
9:00 AM SEAL WALK

101 harbor seals

Wednesday, March 20, 2019
RESEARCH TRIP

104 harbor seals

Friday, March 29, 2019

SEAL WALK FOR

LITTLE PEEPERS FOREST SCHOOL

157 harbor seals

PHOTOS
Saturday, March 30, 2019
9:00 AM SEAL WALK

136 HARBOR SEALS DURING POST-SUNRISE MONITORING SESSION. ALL SEALS ON THE SANDBAR HAD BEEN FLUSHED BEFORE OUR SCHEDULED WALK.

~40 WERE SWIMMING AND ANOTHER 20 WERE HAULED OUT ON THE ROCKS NEAR SHORE.

THE SEALS ON THE ROCKS WERE FLUSHED BY AN ILLEGAL CLOSE APPROACH BY COAST GUARD AUXILIARY VESSELS. THE INCIDENT HAD BEEN TAPED AND A REPORT TO THE AUTHORITIES WILL BE SENT

Sunday, March 31, 2019
9:00 AM SEAL WALK

51 HARBOR SEALS: (28 ON NEAR-SHORE ROCKS & 23 ON SANDBAR)

PHOTOS
Saturday, April 05, 2019

SEAL MONITORING

THE WALDORF SCHOOL OF GARDEN CITY

20 Swimming harbor seals

Saturday, April 13, 2019
8:00 AM SEAL WALK
22 harbor seals
Saturday, April 14, 2019
8:00 AM SEAL WALK

128 harbor seals - dense fog

Sunday, April 16, 2019

SEAL MONITORING

THE WALDORF SCHOOL OF GARDEN CITY

109 harbor seals
Saturday, April 27, 2019
8:00 AM SEAL WALK

17 harbor seals

Sunday, April 28, 2019
8:00 AM SEAL WALK

14 HARBOR SEALS HAULED OUT AT THE FAR NORTHEASTERN OF THE SANDBAR. THIS HAS NEVER BEEN SEEN IN 14 YEARS OF MONITORING