Seal Cruises
from Montauk to Plum, Great Gull, and Little Gull Islands
By: A. H. Kopelman, Ph.D.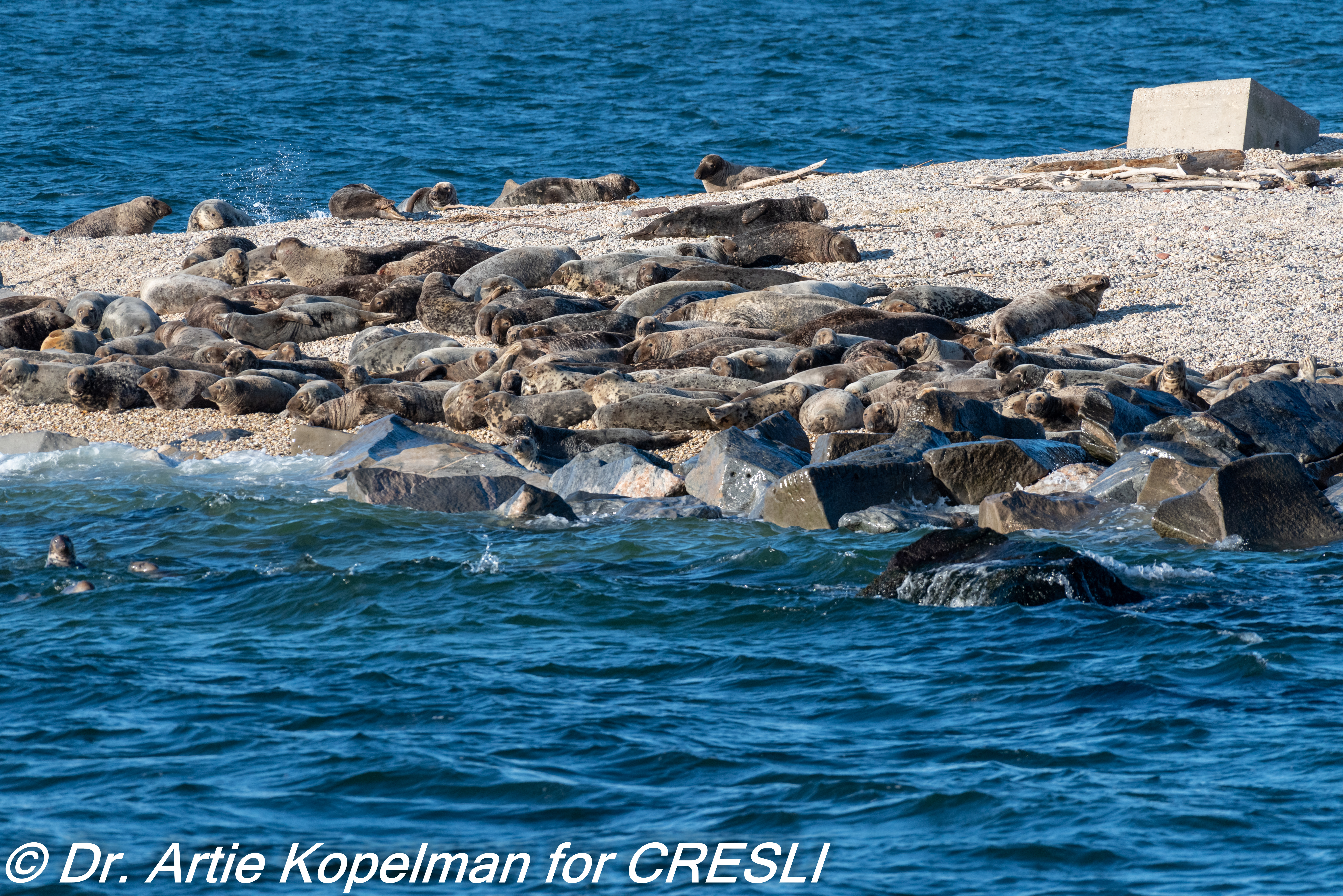 2020 CRESLI/Viking Fleet Seal Cruises
Unfortunately, the social distancing constraints due to the Covid19 pandemic have led to the cancellation of the remaining 2020 Seal Cruises.
We look forward the the start of our 2020 Whale Watching season.
THE VIKING FLEET AND CRESLI ARE TEAMING UP FOR SOME WONDERFUL WINTER AND SPRING SEAL WATCHING TOURS ABOARD THE FAST AND LUXURIOUS 125 FOOT VIKING SUPERSTAR. WE WILL TO THE PRISTINE AREAS OF PLUM ISLAND, GREAT GULL ISLAND, AND LITTLE GULL ISLAND FOR BREATHTAKING VIEWS OF HARBOR SEALS, GRAY SEALS.
Reservations are available at https://vikingfleet.com/activities/seal-watching-tours/
| | |
| --- | --- |
| Seal Cruise Date | Status |
| SATURDAY, FEBRUARY 29, 2020 | 456 gray seals and ~50 harbor seals on the cruise to Plum Island, Great Gull Island, and Little Gull Island |
| SATURDAY, MARCH 28, 2020 | CANCELED to assist in limiting exposure to Covid-19 |
| SATURDAY, APRIL 11, 2020 | CANCELED to assist in limiting exposure to Covid-19 |
| SATURDAY, APRIL 25, 2020 | CANCELED to assist in limiting exposure to Covid-19 |
| | |
---
Past seal cruises
2019 Seal Cruise Date

Status

Saturday January 12, 2019

~100 gray seals and ~100 harbor seals

Saturday January 26, 2019

50 gray seals on Great Gull Island and ~300 on Little Gull Island

Photos
Saturday May 11, 2019
15 harbor seals, including one bein g strangled by plastic




Photos
2018 Seal Cruise Date
Status
Saturday, February 3, 2018
~

200 Grey seals and ~10 harbor seals



Photos
Sunday, March 18, 2018
~

375 Grey seals and ~60 harbor seals



Photos
Saturday, April 21, 2018
~

60 Grey seals and ~100 harbor seals



Photos
Saturday, May 5, 2018
~300 G

rey seals and ~~

600

harbor seals



Photos
Saturday, May 12, 2018
~100

Grey seals and ~40 harbor seals



Photos