Seal Cruises
Shinnecock Bay and elsewhere
By: A. H. Kopelman, Ph.D.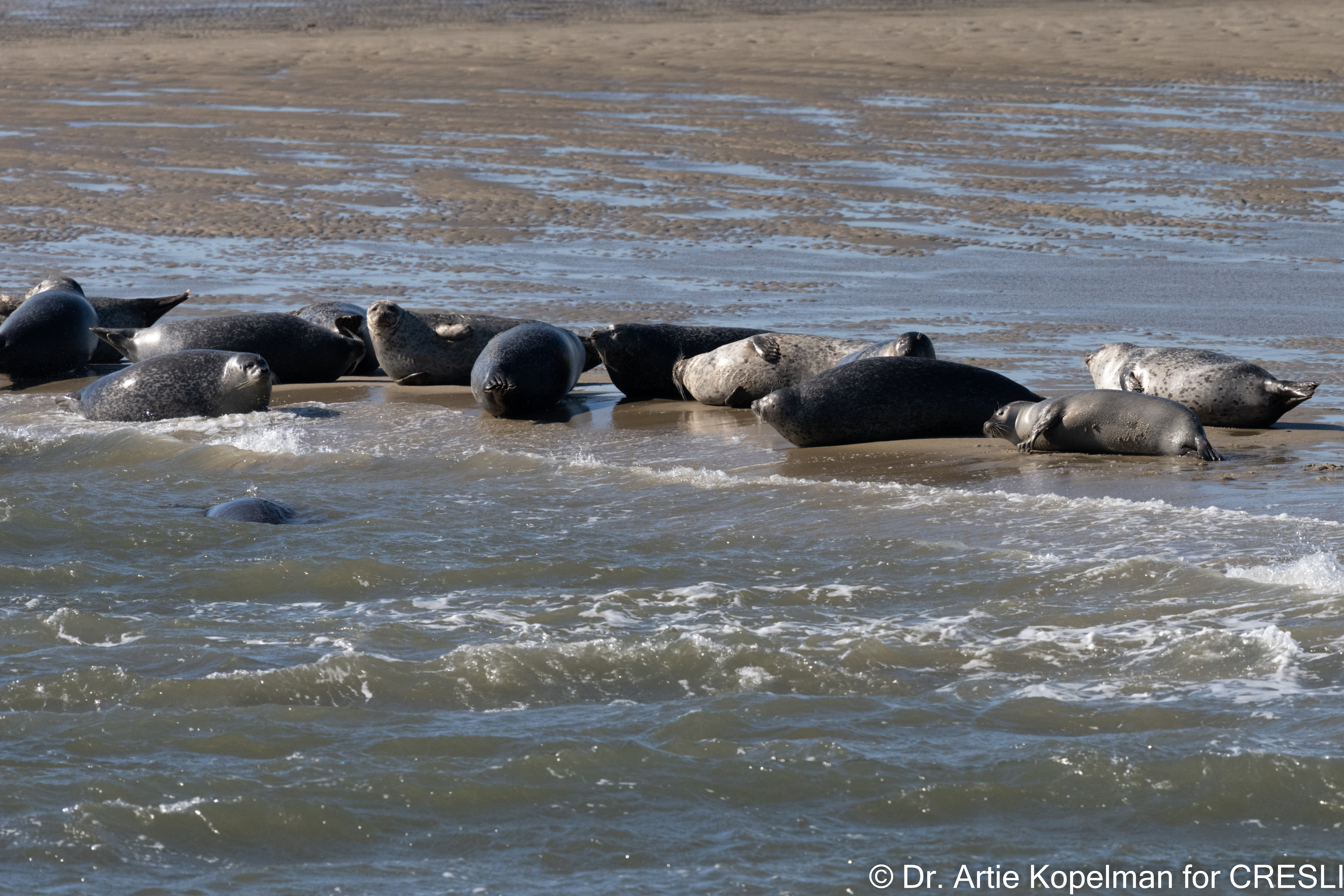 CRESL Seal Cruises
CRESLI has added NEW weekday seal cruises (see below) during 2023 seal season to view seals of Shinnecock Bay, NY, using the R/V PECONIC at the Stony Brook University Marine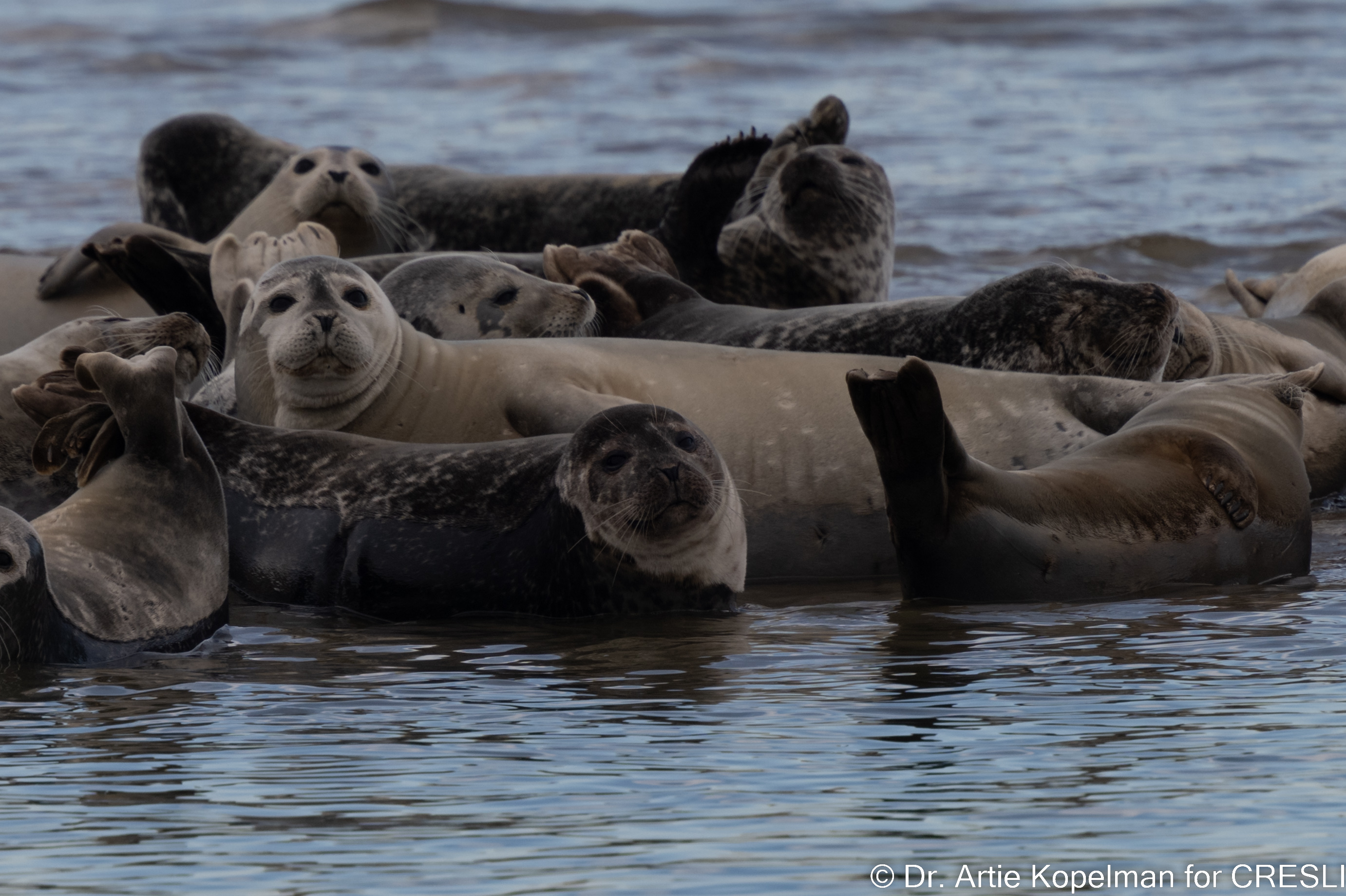 Science Center in Southampton, NY.
Join us as a CRESLI scientist leads 2 hour expeditions to view, photograph and gather information about the diversity and distribution of the seals in Shinnecock Bay. You'll learn about the different species of seals here, a well as the characteristics and behaviors that allow these animals to thrive. You'll hear about the history of seal exploitation and recovery and see these animals in their natural habitat.
CRESLI Seal Cruises on the RV Peconic around Shinnecock Bay will meet and board 30 minutes before the listed departure time at the dock area. Please do not be late
Stony Brook Marine Station, 8 Little Neck Road, Southampton, NY 11968. The cruise take about 2 hours, and will cost $35 per person. Spaces are limited and registration is required.
Registrations can be made by clicking on the date or dates below)
Saturday, April 1, 2023, 1 0 AM - 12 PM is CANCELED DUE TO EXPECTED EXTREME WEATHER
Please be prepared for the COLD i.e., the vessel is essentially open to the weather on 3 sides and you will need to wear warm clothing in layers; wear long pants, hat, gloves, etc. Check the weather for Shinnecock Bay and assume that the winds will produce wind chill. It's better to be a more-on, than a less-on, i.e., having more layers than you need is the right thing. We also suggest bringing water, binoculars, cameras. Hand warmers and toe warmers are also good to have.
Check the marine forecast for Shinnecock Bay
Cancellation Policy: If a cruise is cancelled, you will receive a full refund. If you cancel your reservation within 24 hrs of the scheduled cruise, you will receive a full refund.
---
Seal cruises in the waters around Plum Island with CRESLI naturalists/scientists/educators can be arranged. Please contact Dr. Artie Kopelman
---
Shinnecock Cruise Reports
DATE
REPORT

March 20, 2023 Suffolk Community College - Marine Bio Club trip .

Dr. Artie Kopelman, CRESLI's President, Senior Naturalist and Lecturer on Marine Mammals at Stony Brook University, led a trip organized by Dr. Marianne McNamara, Professor of Biology and CRESLI Naturalist, for the Marine Bio Club of SuffokCommunity College. We encountered 145 Atlantic harbor seals (Phoca vitulina vitulina) and 1 Atlantic gray seal pup (Halichoerus grypus atlantica) in Shinnecock Bay, during a CRESLI cruise on Stony Brook University's R/V Peconic. We thank SBU SoMAS and Captain Brian Gagliardi

Photos can be viewed andf purchased here (funds go to help support CRESLI's work)

Slideshow below

Tuesday, April 4, 2023

A fantastic trip on the R/V Peconic, led by Dr. Artie Kopelman. We encountered 91 harbor seals comfortably hauled-out on the sandbar. Captain Brian Gagliardi, as always, did an incredibly fine job allowing us to see the seals without any disturbance to them. We were also joined by Chris Paparo, Manager of the Marine Sciences Center of Stony Brook University Southhampton Campus, who introduced passengers to the bird life on Shinnecock Bay.

Photos can be viewed and purchased here (funds go to help support CRESLI's work)

Slideshow below
---
Past seal cruises in the Plum Gut Area
2019 Seal Cruise Date
Status
Saturday January 12, 2019
~100 gray seals and ~100 harbor seals
Saturday January 26, 2019
50 gray seals on Great Gull Island and ~300 on Little Gull Island

Photos
Saturday May 11, 2019
15 harbor seals, including one bein g strangled by plastic


Photos
2018 Seal Cruise Date
Status
Saturday, February 3, 2018
~200 Grey seals and ~10 harbor seals

Photos
Sunday, March 18, 2018
~375 Grey seals and ~60 harbor seals

Photos
Saturday, April 21, 2018
~60 Grey seals and ~100 harbor seals

Photos
Saturday, May 5, 2018
~300 Grey seals and ~~600 harbor seals

Photos
Saturday, May 12, 2018
~100 Grey seals and ~40 harbor seals

Photos