Offshore Whale Watching 2020
36 hour offshore whale and pelagic bird trip
By: A. H. Kopelman, Ph.D.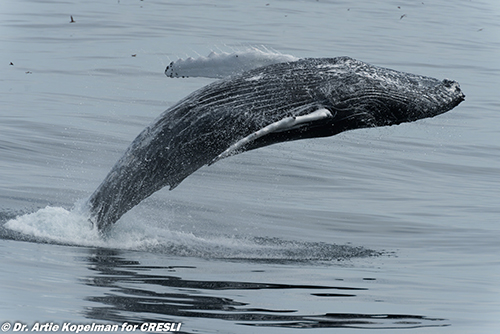 2020 Great South Channel trip
Reservations are open (scroll down)
We are still at 100% success at finding whales on our offshore trips.
---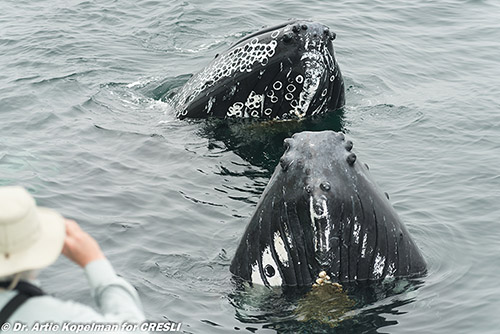 We have now had 1342 humpback encounters in our trips to the Great South Channel, Stellwagen Bank, and locally.
With the assistance of Laura Howes of Boston Harbor Cruises, the Gulf of Maine Humpback group, Dr. Jooke Robbins of the Center for Coastal Studies, Mason Weinrich, Allied Whale, and the FlukeMatcher groups on Flickr and Facebook, and the NYC Gotham Whale humpback catalog we have photo-identified 519 different humpback whales during these trips
---
| | |
| --- | --- |
| The vessel | Viking Starship (140 foot LOA), leaving from the Viking Landing in Montauk Harbor. Parking available for the duration of your trip. |
| Sleeping accomodations | Open bunks on the main and lower decks; sleeping bags are suggested |
| Meals | Excellent food can be purchased from the galley, or bring your own food |
---
July 19, 2020 - July 21, 2020

(36 hours)

Great South Channel

Leave from the Viking Landing in Montauk at 7:00 PM on Sunday and proceed to the GSC.

We should reach the whale grounds around day break, spend the next 12 hours among the whales and birds of the GSC.

Return to Montauk at 4:00 AM on the following Tuesday
Costs:
$300 for CRESLI members; $325 for non-members
Children 6 – 12 are half price
Under 6 are free

---
2020 GREAT SOUTH CHANNEL RESERVATIONS BELOW.
After submitting your reservation, scroll down, and you can submit your down payment by credit card through PayPal
---
Expectations:
Cetaceans: Humpback, Fin, Minke, Right; Sei, and Pilot whales; Common, Bottlenose, Atlantic White Sided, and Risso's Dolphins; Leatherback, Green and Loggerhead Turtles; Basking, Great White, Hammerhead, and Blue Sharks; Ocean Sunfish; Portuguese Man-of-War; and other marine life.

Birds: Cory's, Greater, Sooty, Manx, and Audubon's Shearwaters; Wilson's and Leach's Storm-Petrels; Northern Gannet; Red-necked and Red Phalaropes; Pomarine, and Parasitic Jaegers; Greater Black-backed, Herring, Laughing, and Bonaparte's Gulls.

---

Dont forget that we also offer regular 5 hour whale watch trips from The Viking Dock on Sundays, Wednesdays, and Saturdays from July, 2020 through September, 6 , 2020

---
PayPal Payment for the 2020 Offshore trip
PayPal payment doesn't require a PayPal account, just a credit card. You can select one option at a time and PayPal will allow you to return to the form to add more fares (click on the Continue Shopping link in the upper right hand side of the checkout page) before checking out.
CRESLI is a non-profit organization as defined in section 501 (c) (3) of the Internal Revenue Code. All Contributions are deductible to the fullest extent of the law. A copy of the last financial report filed with the Department of State may be obtained by writing to NYS Dept. of State, Office of Charities Registration, Albany, NY 12231.