Offshore Whale Watching
51 hour trip to the Great South Channel
By: A. H. Kopelman, Ph.D.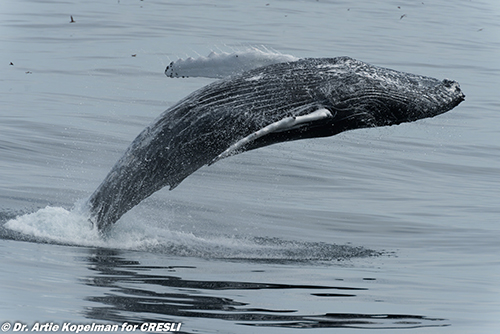 2019 Great South Channel trip
We are still at 100% success at finding whales on our offshore trips.
---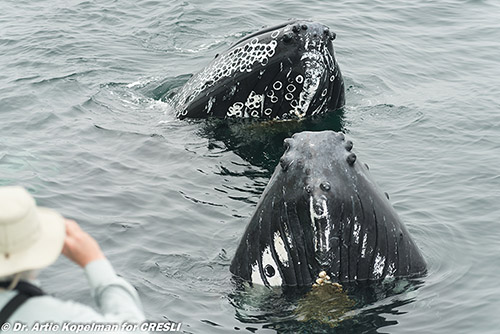 We have now had 1283 humpback encounters in our trips to the Great South Channel, Stellwagen Bank, and locally.
With the assistance of Laura Howes of Boston Harbor Cruises, the Gulf of Maine Humpback group, Dr. Jooke Robbins of the Center for Coastal Studies, Mason Weinrich, Allied Whale, and the FlukeMatcher groups on Flickr and Facebook, and the NYC Gotham Whale humpback catalog we have photo-identified 485 different humpback whales during these trips
---
| | |
| --- | --- |
| The vessel | Viking Starship (140 foot LOA), leaving from the Viking Landing in Montauk Harbor. Parking available for the duration of your trip. |
| Sleeping accomodations | Open bunks on the main and lower decks; sleeping bags are suggested |
| Meals | Excellent food can be purchased from the galley, or bring your own food |
---
August 11-13, 2019

(51 hours)

Great South Channel

Leave from the Viking Landing in Montauk at 6:30 PM on August 11, 2019 and head to Martha's Vineyard (MV) to pick up (and drop off) passengers. We expect to arrive at Oak Bluffs in Martha's Vineyard at around 12:30 AM on 8/12, we leave MV at around 1:00 AM and proceed to the GSC.

We should reach the whale grounds around day break, spend the next 24 hours amongst the whales and birds of the GSC.

The following morning, we will have the option of either remaining on the whale grounds in the Great South Channel, or heading Stellwagen Bank National Marine Sanctuary. The vessel will ultimately depart Martha's Vineyard at 4:30 PM on 8/13 and return to Montauk at 9:30 PM on 8/13/2019.
Costs:
$300 for CRESLI members; $325 for non-members
Children 6 – 12 are half price
Under 6 are free
2019 GREAT SOUTH CHANNEL RESERVATIONS ARE OPEN - SCROLL DOWN TO MAKE YOUR REQUIRED RESERVATION NOW
Expectations:
Cetaceans: Humpback, Fin, Minke, Right; Sei, and Pilot whales; Common, Bottlenose, Atlantic White Sided, and Risso's Dolphins; Leatherback, Green and Loggerhead Turtles; Basking, Great White, Hammerhead, and Blue Sharks; Ocean Sunfish; Portuguese Man-of-War; and other marine life.

Birds: Cory's, Greater, Sooty, Manx, and Audubon's Shearwaters; Wilson's and Leach's Storm-Petrels; Northern Gannet; Red-necked and Red Phalaropes; Pomarine, and Parasitic Jaegers; Greater Black-backed, Herring, Laughing, and Bonaparte's Gulls.

---