Local Montauk Whale Watching 2023
Our 28th year with Viking Fleet of Montauk, NY
By: A. H. Kopelman, Ph.D.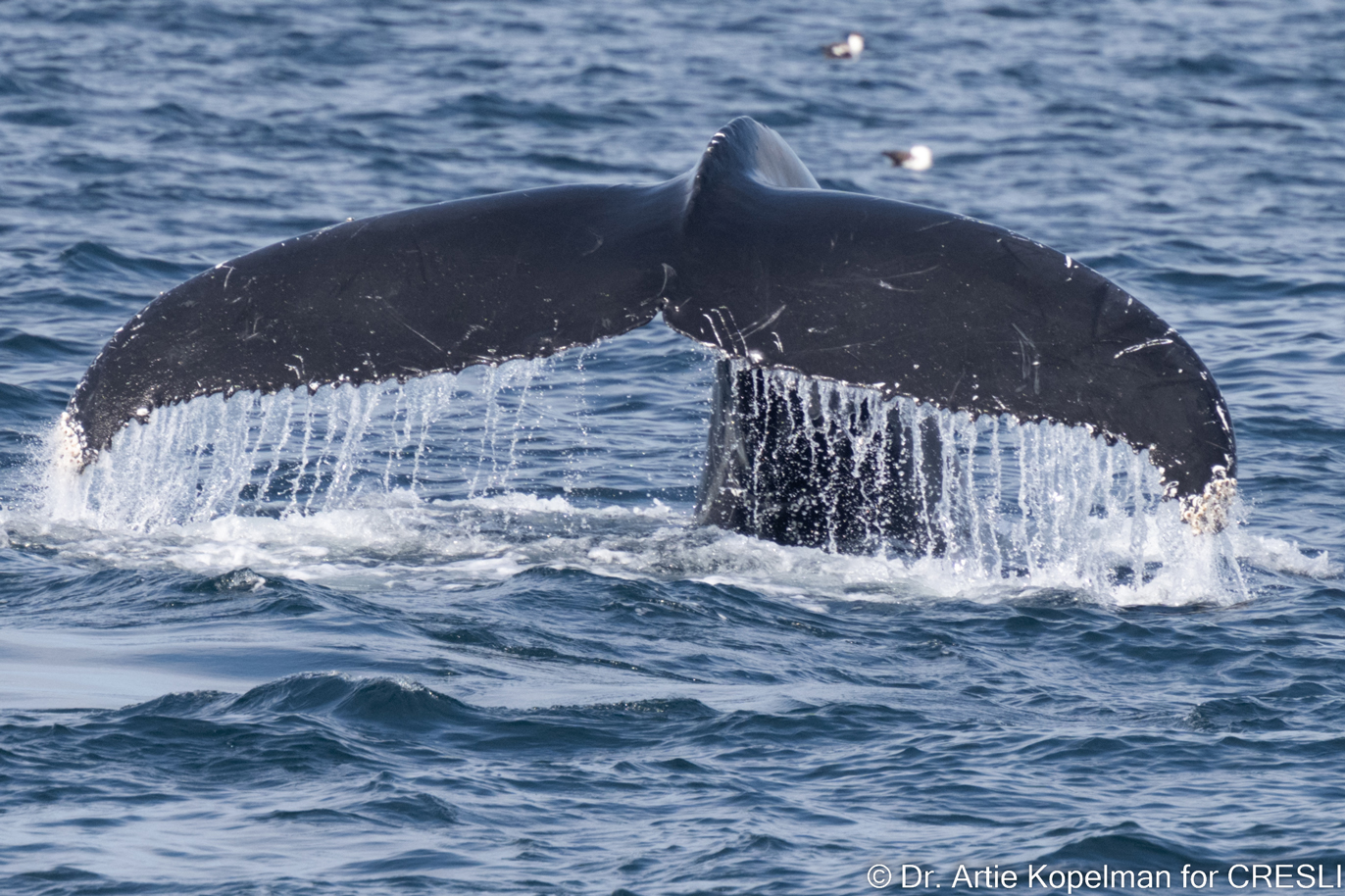 ---
2023 CRESLI/Viking Fleet whale watching on the 140' Viking Starship starts July 2, 2023
We will sail Sundays and Wednesdays through September 10, 2023
2022 TRIPS: 100% SUCCESS FINDING CETACEANS (whales and dolphins). See our 2022 Naturalist Blog below
SINCE 2012 - 94.04% SUCCESS RATE IN FINDING CETACEANS (142 out of 151trips): see our 2021 and prior whale watch sightings blog
Join the crew with over 35 years of whale watching experience AND professors/scientists as trip leaders. Come away with great memories, great photos and videos, and an education about whales, dolphins, sea turtles, and marine life that is second-to-none.
---
Please note that the Viking Fleet supports CRESLI's work through in-kind donations of providing the vessel and vessel crew, and some funds per trip. We are eternally grateful to the Viking Fleet for our decades of collaboration
The Viking Fleet and CRESLI are offering special family friendly marine cruises focusing on the sights of the ocean! Enjoy a day on the water with your family looking for whales, dolphins, sea turtles, sea birds and sunfish. Along the way you can view the Montauk lighthouse and all the landmarks of the east end.

Our qualified naturalists/marine biologists will narrate the tour and answer all of your questions!

The trips will depart the dock at 2:00 PM and return at 7:00 PM
The Viking boats are equipped with clean restrooms, comfortable seating and full galleys onboard. We recommend reservations. You can either do so by phone (631-668-5700) or via the link below
The fare for these trips is $85 for adults, $55 for children 5-12y/o, FREE for Children 4 and under
---
Whether our trips take place are dependent upon weather and sea conditions. Be sure to check the Marine Forecast for the waters around Montauk
---
Read the trip sightings reports from previous years
See the slideshow of the Best of the 2022 CRESLI Whale Watch Season" photos and videos.
---
Sunday July 3, 2022
One of the best trips in 10 years
The Viking Fleet and CRESLI began our 27th consecutive season of whale watching trips with amazing encounters with 8 fin whales, 1 humpback (back for its 3rd time in the past 4 years), 2 groups of about 30 short-beaked common dolphins, and a large and diverse array of pelagic birds. The whales, dolphins, and birds were feeding on dense prey patches at 125-150 feet down. What a way to start!!
8 finback whales
1 humpback whale
60 short-beaked common dolphins
15 Wilson's storm petrels
70 Great shearwaters
10 Cory's shearwaters
5 Sooty shearwaters
Sunday, July 10, 2022
Another excellent day on the Viking Starship.
We started off with repoprts of dolphins, and we did find them, and kept finding them over the course of our trip, approximately 300 in total, including some newborn calves. We also found a loggerhead sea turtle and had a brief encounter with a minke whale
300 Inshore bottlenose dolphins
1 Minke whale
1 Loggerhead sea turtle
60 Great shearwaters
15 Cory's shearwaters
1 Sooty shearwater
Wednesday, July 13, 2022
Another excellent day on the water with 120 short-beaked common dolphins and loads of pelagic birds.
It was a beautiful afternoon on the Viking Starship. We had reports of whales nearshore and searched without success, we headed offshore and while we encountered pelagic birds, Portuguese Man-o-Wars, and too many balloons. It wasn't until we got back to the area we'd searched last Wednesday and found about 120 short-beaked common dolphins and hundreds of shearwaters, a handful of Wilson's storm petrels, and an immature Northern gannet. The dolphins, came over and swam alongside, we were barely moving and had amazing views.
120 Short-beaked common dolphin
300 Great shearwaters
25 Cory's shearwaters
1 Sooty shearwater
1 Immature northern gannet
2 Wilson's storm petrels
6 phalaropes (unable to determine species)
Photos and video to view and/or purchase to help support our work
Sunday, July 17, 2022
This was one of our best local whale watch trips of the past 10 years!!
There aren't enough superlatives to describe the trip. Suffice it to say that for most, it was the trip of a lifetime! We were surrounded by whales for a radius of several miles and we often saw the classic "picket fence" of whales blows that we would see on our offshore trips to the Great South Channel. Let's let the number do the "talking."
12 humpback whales
4 finback whales
2 minke whales
400 short-beaked common dolphins
1475 Great Shearwater (including a flock of 550)
150 Cory's/Great Shearwater ("Based on what we saw they were most likely Great.."...)
63 Cory's Shearwater
6 Sooty Shearwater
4 Manx Shearwater
323 Wilson's Storm Petrel

Pelagic bird counts are courtesy of Steve Glover and are posted on e-bird
Wednesday, July 20, 2022
Another multi-species trip!
No better way to beat the heat than with a whale watch! Comfortable breezes at sea were joined by dozens of small pods of short-beaked common dolphins throughout the voyage (200-250 total), including several mother/calf pairs and juveniles. Passengers listening closely at the bow could hear their clicks and whistles as the dolphins swam alongside the vessel. A mako shark sighting preceded that of a hammerhead to the delight of those aboard. One minke whale with a fishy-smelling exhalation gave new meaning to the term "stinky minke" (normally referring to their lack of a visible spray/blow and subsequent difficulty in spotting) as it surfaced close by. Two more minkes and a pair of finback whales were also observed. Pelagic bird sightings included (approximately) 120 Great Shearwaters, 40-50 Cory's Shearwaters, 4 Manx Shearwaters, 1 immature Northern Gannet, and 120-150 Wilson's Storm Petrels, half of which occurred in one large, beautiful flock. Escape the heat with us this Sunday as we sail along cool waters and explore more of this amazing coastal ecosystem
2 Finback whales
3 Minke whales
200-250 Short-beaked common dolphins
1 Hammerhead shark
1 Mako shark
~120 Great Shearwaters
40-50 Cory's Shearwaters
4 Manx Shearwaters
1 immature Northern Gannet
~120-150 Wilson's Storm Petrels
Sunday, July 24, 2022
Dolphins, pelagic birds, sharks, and a heartbreaking sight: a very ill humpback whale
It's a heat wave, but you can keep the heat and I'll take the wave. There are few better ways to beat the heat than with a whale watch! The high heat and humidity on land gave way to cool offshore breezes. We were treated to early views of pelagic shearwaters, which continued throughout the trip. The waters were choppy, so we decided to change direction to minimize wind and maximize sightings. As if on cue, we immediately stumbled upon a hammerhead drifting next to our vessel. Shortly after, a small group of short-beaked common dolphins spent time near our bow before we headed off in search of larger residents. Although the wind quickly dissipates the blow from whales, a spout was sighted and investigated. Upon arrival, we found a humpback whale very different from ones typically sighted. This individual was reddish/brown in appearance and was drifting slowly at and just beneath the surface. Upon further inspection using zoomed-in photographs taken of the individual, the humpback appears to be infested with cyamids, tiny crustaceans found only on the bodies of cetaceans (whales, dolphins, and porpoises). Since this is an indication of distress, the Atlantic Marine Conservation Society (AMCS) was immediately notified. AMCS reported the whale and its location to the National Oceanographic and Atmospheric Administration (NOAA), the agency responsible for protecting whales under the Endangered Species Act and Marine Mammal Protection Act. Although humpback whales in the northwest Atlantic are no longer considered endangered thanks to decades of conservation efforts, they are subject to entanglement with fishing line and gear which can severely weaken and/or drown the individual. NOAA and AMCS will continue to monitor this situation. As we returned home, a small group of bottlenose dolphins were spotted close to shore, wrapping up another successful trip. We sail every Wed and Sun until Labor Day; book your trip today!
60-80 Great shearwaters
1 Cory's shearwater
1 hammerhead (likely a smooth hammerhead)
4-6 short-beaked common dolphins
1 humpback whale
3 bottlenose dolphins
Wednesday, July 27, 2022
It just keeps getting better and better! 5 species of cetaceans and 6 species of pelagic girds on this trip
Twenty minutes from the Lighthouse and about 4 miles away we found 80-100 inshore bottlenose dolphins chasing bait at the surface and diving to 75 feet for bait at the sea floor. We headed on our way and found our first whales about an hour later. We saw 7 different humpback whales blow at the same time! WOW! It gets better – there were two mom/calf humpback pairs including Rune and her 2022 calf. No other humpback researchers knew that she had a calf until we found with her! We have yet to ID the 2nd mom. The humpbacks were breaching, bubble feeding, open mouth feeding, flipper slapping! WOW! We also had at least 4 finback whales – 2 mom/calf pairs. Oh, let's not forget about 60 short-beaked common dolphins. Another spectacular trip and probably the best yet.
7 humpbacks whales, including Rune, Loon, and Manhattan
4 finback whales (including cow/calf pair)
2 minke whales
100 inshore bottlenose
60 short-beaked common dolphins
380 Great shearwaters
120 Cory's shearwaters
8 Sooty shearwaters
12 Manx shearwaters
1 dark phase Parasitic jaeger
2 red phalaropes
Sunday, July 31, 2022
An absolutely majestic day aboard the Viking Starship today.
We set sail under clear skies, calm seas, and unlimited visibility. An encounter with a hammerhead shark commenced our adventure, staying near (and long) enough at the surface for all to get a good look. Soon after, a small group of inshore bottlenose dolphins were spotted and enjoyed. As we searched for whales, several large pods of short-beaked common dolphins charged toward and surrounded the boat. A nursery made up of a dozen mother/calf pairs accompanied the large group which swam near, around, and beneath our vessel. A second hammerhead shark was spotted close by while a blow belonging to a humpback whale was observed in the distance. The whale began a series of tail slaps revealing the unique 'snow white' undersides of its flukes, which can be used to identify the individual. No sooner than we decide to move on in search of other cetaceans does the whale breach clear out of the water and demand our attention a bit longer. A third hammerhead is spotted and the large pod of common dolphin returns, encircling our boat (and the whale) with sightings in literally every direction. What a great day!
20 Inshore Bottlenose Dolphins
250-300 Short-beaked Common Dolphins
1 Humpback Whale
3 Hammerhead Sharks
80-100 Great Shearwaters
1 Cory's Shearwater
Wednesday, August 3, 2022
Log another successful whale watch in the books; we are 9 for 9!
Yesterday, we sailed under near-perfect conditions and spotted our first of four minke whales. While waiting for the minkes to resurface, we got a very nice look at a hammerhead shark swimming along the surface. This was the first of several sharks, two of which were confirmed as hammerheads. While searching for more whales, we passed a sea turtle and scores of pelagic birds. A breach announced the presence of our first humpback, a juvenile we previously encountered on Sunday's trip. We then spent time with a second humpback; a curious juvenile who made viewing from the vessel easy and entertaining. We then found two more humpbacks, with blows from other whales observed in the distance. It was another great trip during what has turned out to be an amazing season. We sail every Wednesday and Sunday until Labor Day – come join us!
4 minke whales
4 humpback whales
2 hammerhead sharks, 3-5 others
Sea turtle (of unknown species)
80-100 Great Shearwaters
8-12 Cory's Shearwaters
1 Manx Shearwater
14 Phalaropes
1 Northern Gannet, juvenile
Sunday, August 7, 2022
Well, we found them again bottlenose dolphins, humpback whales, sea turtle, and hammerhead shark
It was a bouncy ride for our first hours, but we enjoyed being away from the heat and being out on the ocean looking for wildlife. Pelagic birds flew around us most of the trip (Cory's, Scopoli's, and Great Shearwaters). We found what was most likely a loggerhead sea turtle, but never had great looks at it. Right after the turtle, we found the first of several small pods of inshore bottlenose dolphins feeding on prey at the surface and continued to search for whales. A beautiful smooth hammerhead shark swam on our starboard side just feet away from us. We had amazing views. Ultimately a humpback breached in the distance ahead of us. It was one of the humpbacks we'd seen on our last trip. We began to see more and more humpbacks around us, and were ready to go to them. Unfortunately, a passenger experienced a serious medical issue and we had to head to the dock and meet EMT's. As much as we wanted to see more whales, the health and safety of people onboard take precedence. As we headed towards the Lighthouse, dolphins came swimming towards us from all over.
We'll be back out there on Wednesday.
2 humpback whales (there were 2 more that we couldn't get to)
60 inshore bottlenose dolphins
1 smooth hammerhead shark
1 loggerhead sea turtle
63 Great shearwaters
10 Cory's shearwaters
1 Scopoli's shearwater
Wednesday, August 10, 2022
A truly HOLY SMOKES DAY! 3 species of cetaceans and hundreds of pelagic birds feeding on sand eels!
Breaching, open-mouth feeding, flipper slapping, mom/calf pairs, associated groups – you name the humpback behavior, we saw it. At one point, whales, pelagic birds and large striped bass were feeding together on the abundance of prey. It might be easier to let the photos and videos speak for themselves. Our senior scientist/naturalist/educator, Dr. Artie Kopelman, was on-board, and 2 days later is still reviewing the over 700 photos and videos. They will be posted soon along with the ID's of the whales.
14 humpback whales (including Mars, Apex, Glo-stick, Liner's 2016 calf, and NYC0085, as well as 9 newly ID'd whales)
2 minke whales
~180 inshore bottlenose dolphins
~300 Great shearwaters
~75 Cory's shearwaters
2 Sooty shearwaters
Sunday, August 14, 2022
It keeps getting better!!

We left the dock under exceptional conditions, cool comfortable weather, little wind, and unlimited visibility. Within 5 nautical miles we found a massive group of several hundred inshore bottlenose dolphins. We stayed with them for a while and continued on our way. It took another hour before we saw whales breaching about 4 nautical miles ahead, once we got there we found 9 humpback whales, including some from our last trip. All seven were essentially moving as one, diving together, travelling together, feeding near the bottom and returning to the surface together. We know that humpbacks will cooperatively feed and often see that at the surface. Could they have been cooperatively feeding at depth? We'd like to think so.
10 Humpback whales
200+ Inshore bottlenose dolphins
36 Great Shearwaters
7 Cory's Shearwaters
20 Wilson's Storm Petrels
Wednesday, August 17, 2022
We found them again!!!
The marine forecast called for 4-6 ft seas, heavy winds and rain, but we sailed out on relatively calm seas with the wind on our backs and rain falling only on the land behind us. Plus, they forgot to mention a 100% chance of whales! We started our successful trip with great views of a smooth hammerhead shark and spent some time with a very small pod of inshore bottlenose dolphins before heading farther offshore for "larger bounty". Three species of shearwaters, several large flocks of Wilson's storm petrels and a handful of common loons kept us company during the transit. Blows were spotted in the distance and we discovered eight individual humpback whales (likely more), including at least one mother/calf pair. At numerous times, we were literally surrounded with whales in all directions of the boat. Out of time, we returned to the dock, but not before enjoying a few more close-up views of the whales with blows from others in the distance. We remain 100% successful in finding cetaceans this season. We sail every Wednesday and Sunday until Labor Day; come join us!
12 Humpback Whales, including one mom/calf pair
4 Inshore Bottlenose Dolphins
1 Smooth Hammerhead Shark
1 Cory's Shearwaters
6-8 Sooty Shearwaters
80-100 Great Shearwaters
60-80 Wilson's Storm Petrels
6 Common Loon
Sunday, August 21, 2022
Another Sunday on the sea with whales!!
Sunday was a calm day with little wind and small waves and gray skies. We headed out to where we'd seen whales on our last trips and found the whales again about a few nautical miles further west. On the way we encountered a shark (undetermined species) and a loggerhead sea turtle. We found humpbacks and fin whales. While we stayed with the 12 or so humpbacks as they open-mouth and cooperatively kick fed on sand eels, we were never able to spend time near the fin whales (maybe next trip?). These were adult humpbacks, some with calves, and some of the same whales humpback we've seen over the past month were there, as were new ones. We passed by 2 juvenile humpbacks feeding on bunker on the way in, not far from Montauk Point Our photos taken by Dr. Artie Kopelman will be posted later today.
8-12 Humpback whales offshore; 2 closer inshore
2 Finback whales
1 Loggerhead turtle
1 unidentified shark
60 Great Shearwaters
8 Cory's Shearwaters
1 Sooty Shearwaters
2 Manx shearwaters
11 Wilson's Storm Petrels
Wednesday, August 24, 2022
We did it again!
It was another successful and beautiful day on the water. Having traveled miles offshore to observe whales on previous trips, we were treated to our first sighting just beyond the lighthouse: a breaching and tail-slapping humpback accompanied by a second, smaller individual. Not to be outdone, a shark (possibly a mako) appeared at the same time just beyond our vessel. After spending time with the two whales, we moved on to another spot where 3 more humpbacks would be identified. One of these had terrible propeller scars along the right side of its body. Although healed now, it was a reminder of the dangers from boat strikes and entanglements this population faces. Two minke whales were spotted before three additional humpbacks were spotted, one of which was also tail throwing. Rafts of Cory's Shearwater rested at the surface, likely with bellies full of fish, as blows of whales spouted in the distance. We remain 100% successful in finding cetaceans this season with only three trips remaining. Hope to see you out on the water with us soon!
4-5 Humpback whales
2 Minke whales
1 shark
20 Great Shearwaters
60-80 Cory's Shearwaters
School of 100+ bluefish and 1 leaping tuna
Sunday, August 28, 2022
Another 3 cetacean species trip!
Heading out on choppy seas and limited sightings reported locally, our experienced crew was determined to find cetaceans. Not far from shore, a veteran volunteer spotted a minke whale, the smallest of our local baleen whales, likely feeding on the dense patches of bait fish which could been seen as dark spots in the water. While observing the minke, passengers enjoyed close-up views of a hammerhead shark which swam near, around, and under our vessel to the delight of those onboard. Shortly after, a blow belonging to a humpback whale was spotted and investigated. We soon discovered a familiar "friend", an individual seen on our last trip and several previous trips this season. While spending time with this bottom-feeding humpback, we were treated to a thunderous tail throw and subsequent rollover at the surface. As we kept watch for more activity, a small pod of inshore bottlenose dolphins appeared nearby. Eventually moving away from the whale to observe the dolphins, we discovered two separate blows (from two distinct individuals) and pursued one of them, only to realize that we were back with our familiar friend. Dolphins reappeared on our return to the dock, wrapping up another successful day on the water. Only 3 dates remain for the season - book your trip today!
1 Minke Whale
2 Humpback Whales (the blow of a third was also sighted off in the distance)
12-20 Inshore Bottlenose Dolphins
1 Hammerhead Shark
40-60 Great Shearwaters
Wednesday, August 31, 2022
Our successful trips continue: 2 humpback whales!

We headed out on a gorgeous day with unlimited visibility and clear skies. We weren't far out at all when we encountered our first humpback. This was a small one, perhaps no more than 30' (9.14 meters) long. A minke whale was spotted briefly also. This young whale never fluked when diving and spent much time logging at the surface. We headed to find more and encountered a whale with propeller scars on its left fluke we'd seen last year, MTK.2021.08.15-04 (AKA NYC 0228). Since last year the prop scar closest to the trailing edge were broken through and we could see through it and could see water flowing through it. This whale also had what appear to be fresh entanglement scars on its tail stock. This whale is a resilient survivor and was diving and feeding! We headed offshore to look for adult whales but found little. On our was back we did catch a glimpse of a sea turtle and 12 cownose rays. We are looking forward to our last 2 trips of the season!
1 minke whale
2 humpback whales
1 sea turtle (unidentified species)
12 Cownose rays
52 Great Shearwaters
43 Cory's Shearwater
2 Brown Pelicans
Sunday, September 4, 2022
Another stellar trip with 5 humpback whales!!
This incredible season continues! We didn't have to travel far from Montauk Lighthouse to find our first humpback. This was Scylla's 2016 calf again. The propeller scars and damaged dorsal are hard to look at, but the resilience of this animal is a testament to its will to survive. This 6 year old whale is just almost 40 feet (12.2m) long, and was feeding on the bottom periodically and after a while came to the surface and first, we saw a massive "tail-throw," followed by multiple bouts of pectoral flipper-slapping, and rolling over, sometimes right next to us on the starboard side (our engines were out of gear, of course) and right under our bow. Just amazing. A small private boat was nearby and appropriately remained motionless as this whale swam and flipper-slapped . The whale let loose with a trumpet-blow" as it dove just ahead of the small vessel. A trumpet blow, i.e., the exhalation has a distinctly audible trumpet-like sound, is often an agonistic sign - a warning to the folks on the vessel. Scylla's 2016 calf (AKA NYC0224) came over to us on the next surfacing and also trumpet-blew. That was our sign to leave this whale alone.
We saw another humpback breach a few miles away and headed there. The breaching stopped and the whale was feeding and diving in shallow water and only undertook low fluking dives, at least 6 of them. We left this whale and searched for others. Our 3rd whale was in extremely shallow water, inshore of us and we were in 22 feet of water. We watching bunker begin to jump and saw this young whale surface lunge through a patch of bunker. What a beautiful site!
15 minutes later we were with a fourth whale in slightly deeper water. There were layers of bait on the bottom and about from the surface to 15 feet. We watched the whale dive repeatedly , full-fluking dives, and saw it release a massive fecal plume. We had to head in, but passed by another humpback, this one dove next to us and we recognized it from the fluke patterns and the foul-fetid stench of its blow.
An amazing trip!!
5 humpback whales
35 Great Shearwaters
12 Cory's Shearwater
1 Manx Shearwater
1 Northern Gannet
10 Willets
1 shark (unidentified)
Sunday, September 11, 2022
About 100 inshore bottlenose dolphins and 3 humpbacks including 1 new one, and once again spent time with Scylla 2016 calf. Towards the end of the trip, we decided to head offshore a little and as we turned back, we saw breaches and as we sailed to the whale we saw 11 more consecutive breaches, several tail throws and flipper slaps. We got close- it was Scylla's 2016 calf again! He stopped breaching but kept flipper slapping including coming up right next to us. Great way to end the season!
3 Humpback whales
112 Inshore bottlenose dolphins
14 Great shearwaters
3 Cory's shearwaters
Photos to view and/or purchase to help support our work
Below is a slideshow from the 9/11/22 trip
---
---
CRESLI /Viking Fleet Montauk Sighting reports from 2013-2021
Best CRESLI /Viking Fleet Montauk Whale Watch photos and videos from 2012-2021
CRESLI is a non-profit organization as defined in section 501 (c) (3) of the Internal Revenue Code. All Contributions are deductible to the fullest extent of the law. A copy of the last financial report filed with the Department of State may be obtained by writing to NYS Dept. of State, Office of Charities Registration, Albany, NY 12231