Latest Trips
By: A. H. Kopelman, Ph.D.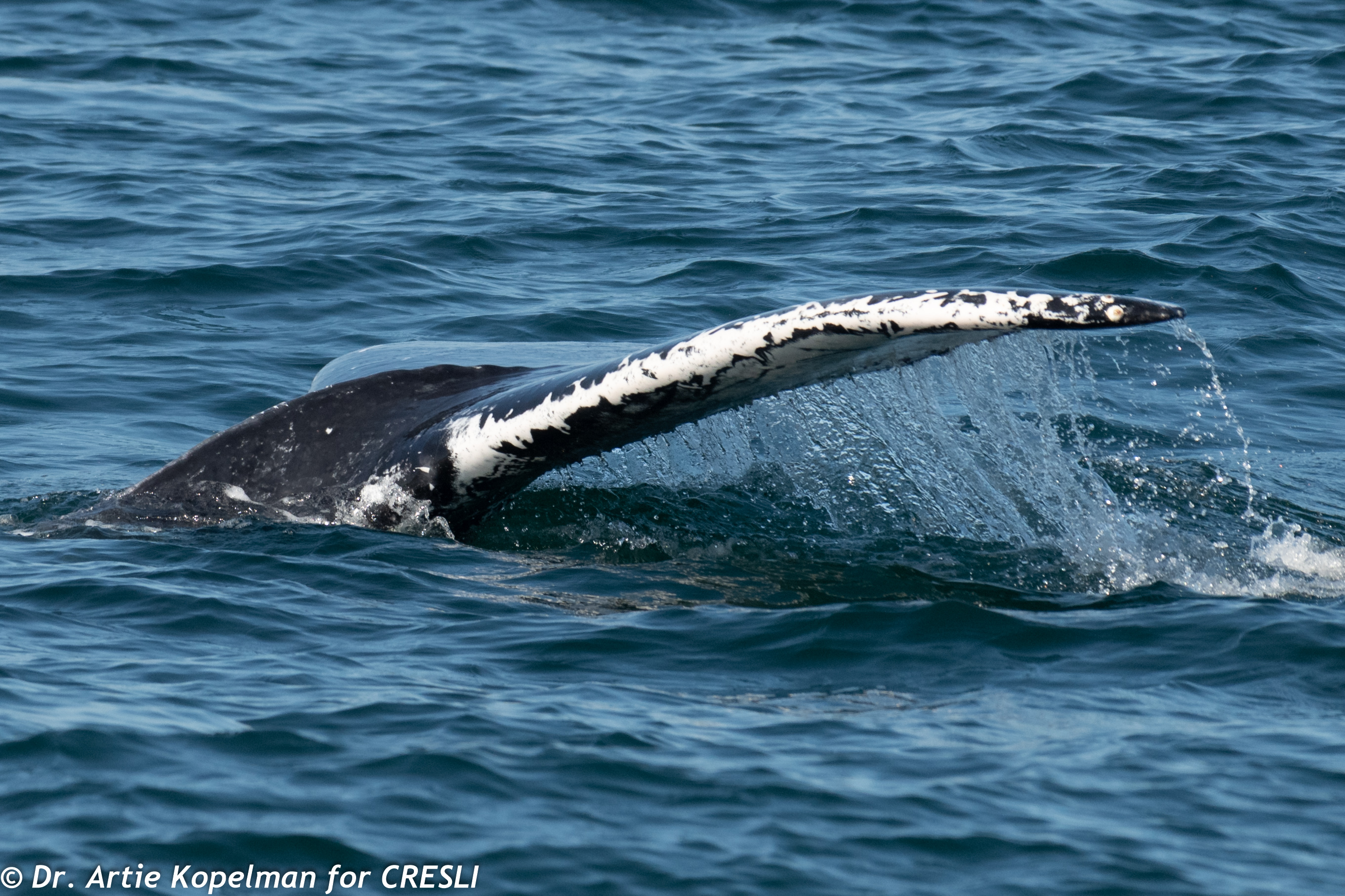 Saturday July 18, 2020
4 humpback whales and massive schools of Atlantic menhaden (bunker). Great way to start the season!
The Viking Fleet and CRESLI began our 24th consecutive season of whale watching trips just where we left off, i.e., finding whales. We had reports of whales that morning (seen from shore by our naturalist, Dr. Artie Kopelman, and heard in the fog aboard the Viking Starship that morning by the intrepid Viking Fleet mate, Joey Ferguson). We also had reports of dolphins west of town. Out we headed and within a short while we were past Montauk Light looking for cetaceans (whales, dolphins, porpoises). Shortly thereafter a fog bank rolled in and we continued on and listened for blows. Eventually the fog lifted and we found ourselves in the midst of many massive schools of bunker. Here we encountered feeding humpback whales. Two juveniles were photographed and we had brief glimpses of 2 others.
A wonderful start to the 2020 season.
4 Humpback whales
1 unidentified sea turtle
4 Wilson's storm petrels
16 Sanderlings
20 Great Black-backed gulls
2 Double-crested Cormorants
Saturday July 25, 2020
3 humpback whales, 1 minke whale and more
Our 2nd trip of the 2020 season didn't let us down. We had reports of whales from several places and began our trip with a great plan. With excellent visibility and conditions, we found our first whale within 40 minutes from passing Montauk Light, a humpback. This whale was busy searching for food 100' down and would rise to the surface after a few minutes, blow 5-6 times and dive. We stayed with the whale until it tail slapped and we decided to head further. We headed ENE towards and found our 2nd whale about 1 hour later. We'd seen it from ~1.5 miles away and when we got near the area, it popped up just under our bowsprit. Luckily we were almost at idle speed. A minke and a thrird humpback joined us shortly thereafter. This last whale had significant Orca raking scars on its dorsal fin and flukes. We encountered other species duringour travels including 3 Ocean Sunfish, 1 jumping White Marlin, about 40 Wilson's Storm Peterels, and about 40 Great Shearwaters
3 Humpback whales

1 Minke whale

3 Ocean sunfish

1 white marlin

40 Wilson's storm petrels

40 Great shearwaters
Saturday August 01, 2020
4 humpback whales - 18 and 10 consecutive breaches at the end of our trip! Nice way to end the afternoon.
Our 3rd trip of the 2020 season was one for the books. Again, we had reports of whales from several places and began our trip with a great plan to survey an area not far from Gurney's. Excellent visibility and conditions allowed us to see blows from really far. Our first stop was ~6nm (nautical miles) south of the Lighthouse, where we had seen blows from about 1.5 nm away. Those whales were gone, so we headed west (2 nm) and found the first of 2 whales, one seen on the 7/18/2020 trip (MTK.2020.07.18-01). Our 2nd whale was one we had seen on the 7/25/2020 trip (MTK.2020.07.25-02). We also encountered an aggregation of about 100 Western North Atlantic Northern Migratory Coastal Stock (AKA inshore) bottlenose dolphins.
We had the priviledge of staying with these whales for over 2 hours, watching them dive for food at the sea floor, rising up 3-7 minutes later and resuming their dives. Both whales we juveniles and both had signs of previous entanglements. One whale had a tuna lure hooked into the left splashguard region (side of the blow hole). We were ready to leave and the whales began breaching simultaneously, each one on each side of the vessel. We stayed with MTK.2020.07.25-02 and it breached 18 times in 8 minutes, while MTK.2020.07.18-01 breached 10 times. Wow! The tubercles on the leading edge of a humpback's long pectoral flippers provide hydrodynamic lift and allow these whales to rise through the water column at steep angles without stalling, hence reducing the energy needed to breach.
4 Humpback whales
100 Western North Atlantic Northern Migratory Coastal Stock (AKA inshore) bottlenose dolphins
---

---
2019-2020 CRESLI Seal Walks at Cupsogue Beach are finished for 2020
Over 24,700 seal encounters at Cupsogue since 2006.
Join us to observe, photograph, and learn about our Long Island's seals.
CRESLI seal walks will take place between November and May. Please note that weather will play a significant role in determining the seal walk schedule. Please call CRESLI at (631) 319-6003 for schedule changes and cancellations. The walks are approximately 1.2 miles round trip and take about 1 to 1.5 hours. These walks are suitable for children.
Please be prepared for the weather, i.e., wear warm clothing in layers. Hats, gloves, warm waterproof shoes are recommended, as are cameras and binoculars. Check the weather for Westhampton Beach and assume that the winds will produce wind chill. It's better to be a more-on, than a less-on, i.e., having more layers than you need is the right thing.
We at CRESLI regret to announce that out of an abundance of caution and prudence, all CRESLI seal walks will be canceled. All folks with reservations will be contacted, all deposits will be refunded. Stay well, stay healthy, help each other and we will get through this.
---
2019-2020 SEAL SIGHTINGS AT CUPSOGUE
Date

Status

Type of trip

Saturday, November 23, 2019

Saturday, December 7, 2019

90 harbor seals hauled-out on main sandbar, including some old-timers back for their 16th year

Sunday, December 8, 2019

70 seals seen at 8:30 AM were spooked off the haulout by a slow moving vessel within 2 minutes. By the time we arrived at 10:00 only about 10 were seen swimming

Monday, December 17, 2019

96 harbor seals hauled-out on main sandbar,

Saturday, December 21, 2019

103 seals were hauled out on the main sandbar during an early monitoring session, but once again had been spooked off the haulout while we were away. When we arrived at 10:00 only 8 hauled out rocks. PHOTOS UNAVAILABLE

Sunday, December 22, 2019

113 harbor seals were hauled out on the main sandbar during our early monitoring session. Unbelievably, yet again, they had been flushed from the haulout by the time we returned 2 hours later.

Surprisingly, we found 30 seals hauled out on a distant sandbar northeast of the usual haulout (secondary haul-out site). With patience, we were ultimately watch 30 additional harbor seals haul back onto the main haulout site!

Tuesday, December 24, 2019

127 harbor seals were hauled out on the main sandbar

Sunday, January 05, 2020

102 harbor seals were hauled out on the main sandbar

Friday, January 10, 2020

25 harbor seals hauled out on their secondary region of the sandbar, utilized when disturbed from the main area

Sunday, January 12, 2020

73 harbor seals (70 on seals were hauled out on the main sandbar and 3 on rocks)

Saturday, January 18, 2020

87 harbor seals (78 on seals were hauled out on the main sandbar and 9 on rocks)

Sunday, January 19, 2020

64 harbor seals (61 on main sandbar and 3 on rocks)

Wednesday, January 22, 2020

137 harbor seals (130 on main sandbar and 7 on rocks)

Prior to a seal walk for the Saxon Middle School of Patchogue, @DrArtieK photographed and took video of 137 harbor seals hauled out (130 on the sandbar and 7 on the rocks) at Cupsogue. With the school group, we stopped at the newer parking area just to get a glimpse of the seals from a distance. We watched in disbelief as an airplane (C-FBKB of Kenn Borek Air Limited) flew over the seals and spooked all into the water. The plane continued to fly over the area repeatedly and we were able to get clear photos to send to the authorities

SEAL WALK FOR SAXTON MIDDLE SCHOOL (PATCHOGUE)

Friday, January 24, 2020

17 harbor seals (12 on rocks and 5 in water)

Prior to this seal monitoring session, @DrArtieK noticed a guy in a wet-suit eastward down the road to the parking with his dog (light colored lab). Dr. K. had a bad feeling that the seals were gone. The man got in his car and drove down to the area where we take people to view seals, he loaded his paddleboard and drove past. Of course the seals were not on the sandbar and about 12 were on the rocks with about another 5 swimming. Dr. K. didn't see him spook the seals, but knew he had done so (he's done it repeatedly).

Harassment is defined by the Marine Mammal Protection Act (MMPA) essentially as any action that causes a marine mammal to significantly alter its behavior. Folks, if you ever see someone purposefully or regularly causing harassment, please try to capture it on video and contact me (ahkopelman@cresli.org). I will share with you the contact information for NOAA Fisheries and NYSDEC Police enforcement agents.

We are so lucky to live in a place where we have 19 species of cetaceans (whales, dolphins, and porpoises) and 5 species of seals (pinnipeds).

Let's share the waters with them in peace.

Sunday, January 26, 2020

105 harbor seals on main sandbar

Sunday, February 02, 2020

157 harbor seals on main sandbar

Saturday, February 08, 2020

31 harbor seals hauled out during a monitoring session prior to the scheduled seal walk. These seals were exceedingly nervous and most appeared to have recently left the water. The behavior was most-likely the results of prior harassment. 20 harbor seals were hauled-out when we arrived later for the seal walk

Sunday, February 09, 2020

60-80 harbor seals hauled out during a monitoring session prior to the scheduled seal walk. Just before we were ready to document the haulout with photos, a single-engine propeller plane flew south of the haulout area just over the ocean. The moment these seals heard this plane in the distance, all of them jumped into the water. Once again, this behavior was most-likely the results of prior harassment by the same aircraft. 16 harbor seals retuned to the sandbar 25 minutes later. 1.5 hours later, 6 harbor seals were eventually found swimming near the near-shore rocky haulout area during our seal walk after 25 minutes after we arrived.

Monday, February 10, 2020

78 harbor seals on main sandbar

Wednesday, February 12, 2020

133 harbor seals on main sandbar

Sunday, February 16, 2020

142 harbor seals on main sandbar

Monday, February 17, 2020

177 seals (176 harbor seals and 1 juvenile gray seal)

hauled out during a monitoring session prior to a scheduled seal walk for Stony Brook University MAR395. Once again, a single-engine propeller plane flew south of the haulout area just over the ocean. The moment these seals heard this plane AGAIN in the distance, all of them jumped into the water.

This time we were able to capture the plane's # and though social media were able to find out whom to contact regarding the plane owners and the flying school who's training flights have been causing the seals to flush. We hope that theyv are able to effect changes in where or when they fly.

SEAL WALK for Marine Mammals Research Techniques course at Stony Brook Southampton

Saturday, February 22, 2020

138 harbor seals hauled out

Sunday, February 23, 2020

110 harbor seals hauled out

Monday, February 24, 2020

124 seals (123 harbor seals and 1 juvenile gray seal)

Thursday, March 5, 2020

201 seals (200 harbor and 1 juvenile gray) prior to a walk for the Greenport Elementary School 5th grade.

Amazingly there were 218 seals (217 harbor and 1 juvenile gray) when we arrived

SEAL WALK FOR GREENPORT ELEMENTARY SCHOOL 5TH GRADE

Saturday, March 7, 2020

30 harbor seals

Wild, windy, and high water levels

Sunday, March 8, 2020

182 seals hauled out (1 gray seal and 181 harbor seals) prior and during our seal walk. Once again, as we watched, a private vessel got too close to the seals and 94 seals were spooked into the water. Come one folks, we can do better.

The incident was captured on video and the vessels ID # was sent to the authorities for violation of the Marine Mammal Protection Act

Sunday, March 16, 2020

30 seals swimming

Sunday, March 18, 2020

192 seals hauled out (1 gray seal and 191 harbor seals).

Sunday, March 24, 2020

152 seals hauled out (1 gray seal and 151 harbor seals).

Sunday, March 27, 2020

149 seals hauled out (1 gray seal and 148 harbor seals).

Saturday, April 4, 2020

104 seals hauled out (1 gray seal on the ocean side and 148 harbor seals on the sandbar).

Sunday, April 12, 2020

3 harbor seals seals swimming in Moriches Bay and 1 gray seal pup hauled out on the ocean side

Thursday, April 16, 2020

76 seals hauled out: 4 gray seal pups and 70 harbor seals on the sandbar in the bay. On the ocean side, 1 sub-adult gray seal and 1 gray seal pup hauled out

Tuesday, April 28, 2020

8 seals hauled out: 3 gray seal pups and 5 harbor seals on the sandbar in the bay.

Sunday, May 3, 2020

28 seals hauled out: 3 gray seal pups and 25 harbor seals on the sandbar in the bay.

Sunday, May 7, 2020

25 seals hauled out: 2 gray seal pups and 23 harbor seals on the sandbar in the bay.
---
Seal Walk Registration is required, go to https://forms.gle/28ArTe9YQ6DSWSsU8
---
Massive seal haulout at Cupsogue, February 2, 2020. 157 seals from CRESLI_ Inc. on Vimeo.
---

---
You must register for any CRESLI seal walks (see links below). Registration will enable us to contact you regarding changes and/or cancellations.
Suggested donations (not required) of $5.00 per adult (over 18) and $3 per child (18 and under) will help support CRESLI's ongoing seal research programs.
Seal Walk Registration is required, go to https://forms.gle/28ArTe9YQ6DSWSsU8
---
Pinniped Passes: Season passes for unlimited seal walks are available
---
SEAL WATCHING CRUISES TO THE PRISTINE AREAS OF PLUM ISLAND, GREAT GULL ISLAND, AND LITTLE GULL ISLAND
THE VIKING FLEET AND CRESLI ARE TEAMING UP FOR SOME WONDERFUL WINTER AND SPRING SEAL WATCHING TOURS ABOARD THE FAST AND LUXURIOUS 125 FOOT VIKING SUPERSTAR. WE WILL GO TO THE PRISTINE AREAS OF PLUM ISLAND, GREAT GULL ISLAND, AND LITTLE GULL ISLAND FOR BREATHTAKING VIEWS OF HARBOR SEALS, GRAY SEALS.
Reservations are available at https://vikingfleet.com/activities/seal-watching-tours/
| | |
| --- | --- |
| Seal Cruise Date | Status |
| SATURDAY, FEBRUARY 29, 2020 | 456 gray seals and ~50 harbor seals on the cruise to Plum Island, Great Gull Island, and Little Gull Island |
| | |
---
2019 CRESLI/Viking Fleet whale watching
---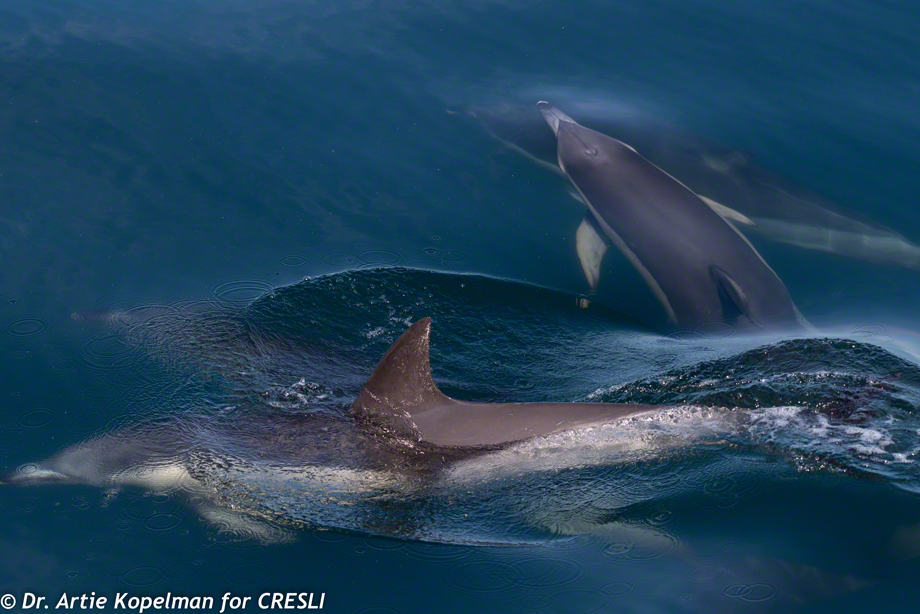 ---
2019 - 95.8% SUCCESS (23 OUT OF 24 TRIPS)
97.67% SUCCESS SINCE JULY 2017 (42 OUT OF 43 TRIPS)!
SINCE 2009 - 93.38% SUCCESS RATE IN FINDING CETACEANS (141 OUT OF 151)
Join the crew with over 30 years of whale watching experience. Come away with geat memories, great photos and videos, and an education about whales, dolphins, sea turtles, and marine life that is second-to-none.
The Viking Fleet and CRESLI are offering special family friendly marine cruises focusing on the sights of the ocean! Enjoy a day on the water with your family looking for whales, dolphins, sea turtles, sea birds and sunfish. Along the way you can view the Montauk lighthouse and all the landmarks of the east end.

A qualified naturalist / marine biologist will narrate the tour and answer all of your questions!

The Viking boats are equipped with clean restrooms, comfortable seating and full galleys onboard. We recommend reservations. You can either do so by phone (631-668-5700) or https://vikingfleet.com/activities/whale-watching/

The trips will depart the dock at 2:00 PM and return at 7:00 PM Sundays, Wednesdays, and Fridays from July 3, 2019 - August 28, 2019

The fare for these trips is $75 for adults, $49 for children 5-12y/o, FREE for Children under 5y/o
---
---
CRESLI/Viking Fleet 2019 Whale Watch Reports
Wednesday July 3, 2019
Basking shark, Ocean sunfish, and dolphins!
We started out just where we left off, still finding cetaceans on every trip - ~70 short-beaked common dolphins.
What a gorgeous day to be on the water. While it took sometime before we found interesting animals, we did indeed find all kinds of critters. A small basking shark was our first aquatic vertebrate and the first seen by many of our passengers. Shortly thereafter we found a small ocean sunfish that gave us great views of its swimming and jumping capability. A short while later we found our first aggregation of
about 30-40 short beaked common dolphins. This group was loaded with lots of, you guessed it, small dolphins. moms with calves and loads of juveniles.
Many of the adult dolphins were engaged in mating, a rare sight for most people. Perhaps that's why the young ones were all together. Our second aggregation of 30 dolphins were similarly "engaged." We also were able to find Wilson's storm petrels, Great shearwaters, Cory's shearwaters, Sooty shearwaters, and Manx shearwaters
70 Short-beaked common dolphins
1 Basking shark
1 Ocean sunfish
25 Wilson's storm petrels
15 Great shearwaters
2 Manx shearwaters
1 Sooty shearwater
1 Cory's shearwater
Friday, July 5, 2019
A Big Minke Day
Today's Viking Fleet/CRESLI Whale watch started off with a dramatic fog bank that sweep over our boat as we were leaving the Montauk area. The thick fog soon fell away and we progressed through calm seas and sunny blue skies for the rest of the day.

After reaching a point about 12 miles from Montauk point we encountered the first of the Minke whales. They were apparently feeding on the thick schools of small fish below us. The adults and children aboard got many looks at these small baleen whales as they spent time around the boat. We continued along at a leisurely pace and stopped several times as we encountered several small groups that day, for a total of 12 whales seen.

Many small seabirds, Wilson's Storm Petrels, where dipping into the seas around us for food too. A sharp-eyed passenger also spotted a young Loggerhead sea turtle alongside the boat.
12 Minke whales
1 Loggerhead sea turtle
25 Wilson Storm Petrels
1 Great shearwater
Sunday, July 7, 2019
Humpback whales, Kemp's Ridley sea turtle, and ocean sunfish!
What a special day we had – our first humpbacks of the season. The day was sunny, breezy, and chilly enough in the shade to make most of us wear sweatshirts, in other words a welcomed relief from the heat and humidity. We heard reports of whales off the Nappeague stretch, as well as further offshore. The NE winds helped us decide to head westward and we found whales off Ditch Plains. We first encountered a really small humpback, perhaps a calf or yearling. It was busy with searching for food on extremely long submersions. Later a larger humpback appeared and we stayed with it long enough to get excellent fluke shots and see some typical humpback behaviors. As we followed this whale to eastward for several miles, while doing so we had a brief encounter with a Kemp's Ridley sea turtle and an ocean sunfish. A nice day in every way!
2 Humpback whales
1 Kemp's Ridley sea turtle
1 ocean sunfish
Wednesday, July 10, 2019
Finback whale! 1st of this season, and another ocean sunfish
We left on a warm afternoon, looking forward to relief from the heat and to find whales. Both were accomplished. As soon as we got past Montauk lighthouse, we felt relief from the stifling heat on land. We had reports of whales inshore around Montauk and Cap't. Dave saw a whale in the morning right where we had seen one on Sunday. The hazy fog and limited visibility made our task difficult. We eventually decided to head offshore into areas with more visibility. There we were able to find our 1st fin whale of 2019, a young (no more than 40' long) and hungry one.
It was spending 9-13 minutes down feeding at 60-80 feet beneath the surface. We got great views and stayed with this whale until it was time to head back in. we came back late, but it was worth it.
1 fin whale
1 ocean sunfish
20 Wilson's storm petrels
1 Great shearwater
2 Cory's shearwaters
Friday, July 12, 2019
Minke Whale on a Beautiful Day
We left Montauk harbor today with beautiful blue skies and good visibility to search for whales and had just enough of a swell to give the passengers an exciting "ride". We cruised along the south shore of Montauk and enjoyed great views of the bluffs and hills. As usual we saw some pelagic seabirds, either skimming the waters or diving for fish and although we were several miles offshore we also had many butterflies fly past the ship.

We then came upon a Minke whale, about 5 miles south of Montauk town. It surfaced several times in a few locations around the boat. Since there were patches of small fish under the ship we assume it was actively feeding. After leaving that whale we continued to cruise towards the southeast towards where we had recently seen whales, but had no luck with for the rest of this day.

Totals:
1 minke whale
1 ocean sunfish
10 Wilson's storm petrels
4 Great shearwater
4 Cory's shearwaters


PHOTOS
Sunday, July 14, 2019
Humpbacks Galore! Lunge-feeding, breaching, flipper slapping, and more
Our first multiple humpback trip. Once again, we escaped the heat on land to find whales in water that was comfortably in the mid to upper 60's. We began looking as soon as we traveled past Montauk light. Within a few minutes we found our first of 4 humpbacks. This one was intent on long feeding fives of prey near the surface and traveling due east without changing course. We got some nice views and ID photos and headed west to find more. Did we ever.
We found one humpback lunge-feeding on bunker (Atlantic menhaden) with an occasional breach thrown in, as usual - spectacular to observe and hard to capture. We stayed with this animal for quite some time. This humpback was oblivious to us and once lunge-fed within a foot or two of our port bow.
Eventually we needed to head back, but were stopped when we encountered 2 humpbacks logging (resting at the surface) together. At first, from afar we thought it might be a mom and calf, but these animals were almost the same size (one just slightly larger) - so not a cow/calf pair, but clearly an associated pair. One of the pair rolled over and flipper slapped for a bit. What a great trip - so many typical humpback behaviors, and so many people on board who had never seen a whale, let along 4 humpback whales, a blue shark, and an ocean sunfish.
Totals:
4 humpback whales
1 blue shark
1 ocean sunfish
2 Wilson's storm petrels
Wednesday, July 17, 2019
Well, it was bound to happen. After 29 consecutive trips with whales or dolphins since July 2017, we were unable to find them today. The haze and occasional limited visibility made it difficult to spot then from a distance. We covered 45 nautical miles in our search but no whales or dolphins. There was bait, bunker, and a few pelagic birds, even an unidentified shark, and an ocean sunfish, but no cetaceans. We will try again on Friday 7/19/19.
One plus was the cool sea surface temperatures that kept us in sweatshirts, while folks were sweltering on land. Another plus was seeing a submarine heading out to sea.
Totals:
1 unidentified shark
1 ocean sunfish
11 Wilson's storm petrels
Friday, July 19, 2019
Back with the Whales!
We are back on track! Found bottlenose dolphins and fin whales!!
Today we left Montauk with clearing skies and a cool breeze. We traveled south and within an hour saw some splashes in front of us. This turned out to be a group of dolphins. These were the first bottlenose dolphins we have seen this year and they crossed right in front of our bow. The group stayed very tightly together as they moved around the boat, sometimes "porpoising" out of the water. We stayed with them for some time before moving onward.
After another 45 minutes we spotted our first whale; a large fin whale. Fin whales are the second largest of the whales and second largest animal on the planet. We watched it as it continually dove down (we assume to feed on the thick bands of small baitfish under the boat) and surfaced with that long conical blow so characteristic of fin whales.
We had a birding group with us today and we were pleased they were able to see several pelagic bird species that can only be seen at sea, including 3 different shearwater species gliding along just above the waves.
After proceeding south from Montauk we came upon 2 more fin whales, again feeding through thick bands of baitfish, about 50 feet below the surface. We finished our day cruising back along the south shore, close in to the cliffs and bluffs, before rounding the point and returning to Montauk.
Totals:
5 bottlenose dolphins
3 finback whales
12 Wilson's storm petrels
2 Great shearwaters
4 Cory's shearwaters
1 Sooty shearwater
Sunday, July 21, 2019
Humpback action!
Once again we headed out to find whales, and as soon as we got past Montauk Lighthouse and onto the Atlantic Ocean, we were out of the heat! Sea surface temperatures were in the upper 60's, a welcome relief.

We headed west towards where humpbacks had been for the past few days and in a short while found one. This 40' (-13 m) whale, probably weighed 45,000 lbs (-20 metric tons), and was logging (resting at the surface) just as it had done one week earlier. We spent some time with this whale be heading further west. At the Napeague Stretch, we headed offshore for a few miles, then began heading eastward. We saw a whale a few miles ahead, got up to it; it was the same whale we'd seen logging. Not logging now! This whale was doing "tail throws." Over and over, we lost count at about 15 times. What an amazing site for all of us. We eventually left the whale and headed home.
Totals:
1 humpback whale
Herring Gulls
Great Black-backed Gulls
Common terns
~30 plovers (unknown species) in 2 groups flying southwest about 2 miles from shore
Wednesday, July 24, 2019
100 bottlenose dolphins to start, humpback and more bottlenose to end!
When we start our whale watch trip with unlimited visibility on sunny dry afternoon, we have great expectations. We hadn't even gotten past the Lighthouse when we found a massive aggregation of inshore bottlenose dolphins – over 100! We watched and followed as they were chasing their prey, driving them into tight circles and then diving. Adults, juveniles, and new born calves were all around us. What a beautiful sight.
We left them to continue their journey and ours, and headed towards where we had been seeing humpbacks whales for the past few weeks. We found a good sized humpback and stayed with it, observed it, photographed its dorsal fin and flukes for ID purposes. We were in neutral and ready to leave but the whale had other plans, it decided to swim right up next to us, along the port sight, then under us, and come back on the starboard side. Needless to say, we couldn't move until the whale moved away. Nobody complained.
We headed a bit further offshore and began to encounter pelagic birds, rafts of Cory's shearwaters, a few Great shearwaters, and a few aggregations of Wilson's storm petrels too. Shortly thereafter we found a pair of whales swimming together. As we found a few weeks ago, these whales, staying right next to each other were not mom and calf, as you might expect, but of similar size (about 36 feet (11 meters). We were able to stay with them for quite some time and got great photos, videos, and recollections. Again, almost nobody on board had seen whales or dolphins before and were just as happy as can be.
Totals:
115 Bottlenose dolphins
3 humpback whales
25 Cory's shearwaters
2 Great shearwaters
10 Wilson's storm petrels
1 immature Northern gannet
Friday, July 26, 2019
Bottlenose dolphins, Minke whale, and Finback whale!
Today's CRESLI/Viking Fleet whale watch left Montauk Harbor with clear blue skies and calm seas. Cruising for less than an hour southeast of Montauk we came upon 2 groups of dolphins. There were about 15 bottlenose dolphins all told and we watched them for 45 minutes as they socialized around the boat. These dolphins all were side by side as they put on an energetic display. They were splashing, spy-hopping, "lob-tailing" and did back flips in the water. Their behavior was all about social bonding and perhaps establishing dominance within the group. Our passengers took some great photos of the dolphins with the cliffs of Montauk in the background.
We decided to move on and went further offshore. We continued to pass many "baitballs" of small fish the whales like to eat; menhaden at the surface, being pursued by larger fish. Losing sight of land we came upon 2 whales of 2 different species. Both a minke whale and a fin whale were feeding in the area. At first they were hard to follow as they came up for a quick breath and immediately went down to feed on the very thick schools of small fish. We were patient and were rewarded with some good looks at the fin whale. About 50 feet long, it began to stay on the surface and moved slowly along as it performed a series of several blows. We watched it for several of these series fairly close. The whale finally came up very close and headed directly for our boat. It was right at our stern when it made a final blow that rose above us and then dove underneath the boat for a spectacular "final good-bye"!

Totals
15 Bottlenose Dolphins
1 Fin Whale
1 Minke whale
1 Ocean Sunfish
5 Wilson Storm Petrels
30 Common Terns
20 Black Backed Gull
Sunday, July, 28, 2019
Bottlenose dolphins to start; humpback to end
We had a long trip today with a sold out boat. We escaped the heat right away as we turned east at the jetty. Found 2 small groups of Bottlenose dolphins and a small ocean sunfish just west of the Lighthouse. We search nearshore and offshore, didn't find much else until we began to get head back toward Montauk. At 6:30 we saw something flash off in the distance and the blow of a humpback about 2 miles ahead of us. It was doing inverted lob-tailing, partial breaching, tails throws, etc. and as we got closer a small fishing boat ran super-fast right to the whale, stopped way too close. The whale reacted by diving and tail-throwing once – then took off to the southwest, with 5-6 minute down times and just surfacing a few blows each time and heading away. Had that vessel not harassed the whale, it would have continued its behaviors. It was spectacular to see this active whale, but to see it chased down by those jerks in the small boat was upsetting to all. All-in-all, a long but successful trip. Even though we got back at 8:10 PM, people loved it. BOATERS, REMEMBER TO NEVER CHASE DOWN WHALES! GIVE WHALES THEIR SPACE!
Totals
10 Bottlenose Dolphins
1 Humpback Whale
1 Ocean Sunfish
3 Wilson Storm Petrels
1 Great Shearwater
Common Terns
Great Black-Backed Gulls
Herring Gulls

PHOTOS
Wednesday, July, 31, 2019
3 Humpbacks, pod of bottlenose dolphins, and a minke whale!!
Once again, we left the sweltering heat and cooled off almost immediately after leaving the harbor (sea surface temperatures have been in the upper 60's to low 70's for a while). We headed towards an area where dolphins had been seen earlier, but they had move on, as nomadic dolphins almost always do. We then headed off towards one of our known whale feeding areas, and there we encountered 2 large humpbacks swimming, diving, and obviously feeding together, we also see a small pod of bottlenose dolphins. We see a third humpback. The 3rd whale heads North and we stay with the pair. Their prey are in bands from the surface to 50' below, and they're spending feeding below and occasionally defecating at the surface. One of the whales is a known whale from the Gulf of Maine, Komodo, the 2007 calf of Rune, the other remains to be identified. We headed in search of the 3rd humpback but were unsuccessful but eventually found a minke whale, just before heading back to the dock. An amazing time for everyone.
Totals
15 Bottlenose Dolphins
3 Humpback Whales
1 Minke Whale
5 Wilson Storm Petrels
PHOTOS
Sunday, August 4, 2019
Whale Trifecta! 2 Minke whales, 5 humpback whales (including a mom and calf), and a finback whale! 8 whales in all!
What do you get when you have unlimited visibility, flat seas, and good eyes? Lots of whales. Shortly after heading out past the Lighthouse, we spot our first whale, a minke whale. They are relative small baleen whales and this one was not only small, but also entangled in fishing gear. The gear was loosely wrapped, but still obviously having an effect. The Coast Guard was notified, they in turn notified the Center for Coastal Studies
Marine Animal Entanglement Response Team. CRESLI sent photos and all folks are asked to keep an eye out (seehttps://drartiek-cresli.smugmug.com/CRESLI-2019-Whale-Watches/2019-08-04-Montauk-Whale-Watch/i-VsXTmxz/A for a photo). All too sad to see, but we were glad to help.

We continued on our way and found our first of 5 humpbacks about 30 minutes later. We began to see blows in many directions and were ultimately able get close to photograph others. Very nice to see our first mom and calf of this summer. As the day progressed were saw more, including the same tail-throwing whale that we'd seen on 7/14 and 7/21, and it threw its tail once this trip too. The whales were busy eating and we were able to get a quick glimpse of a fast moving finback and another minke. When we headed back in, we looked behind us and found blows all over – I guess we know where to go on Wednesday
Totals:
2 Minke Whales
1 Finback Whale
5 Humpback Whales
5 Wilson's Storm Petrels
1 Immature Northern Gannet

PHOTOS
Wednesday, August 07, 2019
Breaching Humpbacks, Minkes, and a few Great shearwaters and a mature Northern gannet!
Another beautiful day on the water with whales, what more can you want? Our minkes were "stinky" and avoided being photographed, but were seen none-the-less. Our humpbacks showed us most of their repertoire of aerial behaviors. Our first pair of humpbacks included one whale (MN.CRESLI.2019.07.14-04) that's been seen by us for the past 4 weeks, each time in close association (swimming synchronously and within a body width of the other whale) with a different humpback. Interesting! At one point MN.CRESLI.2019.07.14-04 and MN.CRESLI.2019.08.07-01 breached together, not 100' in front of us, and a few seconds later, MN.CRESLI.2019.08.07-01 breached by itself. WOW. We left those whales and traveled our searching pattern, finding whales a few miles away- another pair? Yes, but - there's MN.CRESLI.2019.08.07-02 with MN.CRESLI.2019.07.14-04. Incredible – another associated pair that includes MN.CRESLI.2019.07.14-04. That's some gregarious whale.
Totals:
3 Humpback whales
2 Minke whales
2 Great Shearwaters
1 Mature Northern Gannet
PHOTOS
Friday August 9, 2019
Whales and Dolphins Too... Again!
The CRESLI/Viking Fleet whale watch left Montauk on a beautiful day with blue skies and unlimited viability. We were only a mile south of the lighthouse when we saw our first blow and came upon our first whale. It was a young humpback whale and we followed it for almost an hour as it remained in the area. The passengers got some nice photos of the whale with the cliffs of Montauk in the background.

Our vessel, the Viking Starship, then proceeded to the west along the coast and then turned south, away from Long Island. We started to see many schools of bait fish at the surface- just what our whales are looking to find. After a short cruise we suddenly came upon 2 whales and a pod of dolphins. The dolphins were bottlenose and the whales were more humpbacks. The pod of 8 dolphins was moving around the area with speed and sometimes leaping from the water. One of the whales did some tail slapping which made large splashes and was probably done to make a sound to communicate with others.
We spent a couple of hours in the area and were treated to many "down dives" with one humpback showing us its flukes and letting us take some great identification photos for our research. One whale also lifted its head up out of the water for a nice view.
As we started to make our way back to harbor we saw another pod of bottlenose dolphins, about 10 this time, and we watched them too. This group had several very young animals and they were also tail slapping in unison. Sadly our time at sea was up and we had to leave the dolphins and head back to Montauk.
Totals:
3 Humpback Whales
18 Bottlenose Dolphins
2 Great Shearwaters

PHOTOS
Wednesday, August 14, 2019
Finback whales and humpback whales
A little sea mist on the horizon had everyone on board the Viking Starship becoming a spotter. Captain Dave began his search East of Montauk and we were soon rewarded with a large Finback whale feeding. A beautiful cone-shaped blow and the incredible power of this marine mammal enchanted everyone on board. Next we found a 2 Humpback whales feeding and got a fabulous tail wave. This is a whale we have seen before. We also managed to see a Blue Shark that was feeding near the Humpback whales. As we continued our search we were able to see a few Minke whales nearer the Montauk Lighthouse. We had reports of a cow-calf pair of Minkes, but were unable to confirm. Birds of note today included A Cory's Shearwater and a number of Wilson's Storm Petrels dancing on the waves and surface feeding
PHOTOS
Friday, August 16, 2019
A Humpback, a Minke and a Fin Whale...
It was a good day for a whale watch with great visibility and clearing skies as the CRESLI/Viking Fleet whale watch left Montauk harbor. After some time we spotted a tall blow in the distance. As we closed we saw it was a fin whale. This lone animal was about 40 feet in length, not large for these whales. It remained in this one area with a regular series of 4 surface breaths and then dives down, most likely to feed on the small fish our sonar saw close to the bottom. We got some nice looks at this animal as we stayed with it for some time. After continuing our search we discovered another species of whale, a young humpback. It was swimming slowly at the surface, sometimes "logging", and we all got some nice looks. As we continued on our search we saw a breach in the distance as a whale leapt from the water and so the boat went to investigate. This turned out to be a Minke whale, the smallest of the rorqual whales. After another trip where we hit the 3 species "whale trifecta" we headed back to harbor.
Totals
1 Humpback Whale
1 Minke Whale
1 Fin Whale
13 Wilson Storm Petrels
PHOTOS
Sunday, August 18, 2019
Spectacular Humpback Whale Breaching
We left Montauk today with clearing skies and very calm seas. There was a report of a humpback whale a short distance from Montauk Point and we went looking for that whale first. After 30 minutes it proved easy to see as the humpback was breaching in the distance and creating huge white splashes of water. We approached this young animal and were treated to several bouts of breaching. It lunged its entire body length out of the water over and over - for a remarkable 30 plus breaches. In between breaching (and delighting the passengers) the whale stayed lounging on the surface and continually "flipper-slapped" the water, creating a sharp "crack" sound with each hit.
After spending some time with this charismatic whale we continued our journey and spotted a minke whale close in front of our boat. We came upon a few other humpback whales, one after the other, saw another breach, and spent some time with those whales.
Suddenly 2 bottlenose dolphins swam up to the boat, with one leaping or "porpoising" out of the water. We were running out of time, after such a full day, and headed back to Montauk, with a brief look at yet another humpback whale along the way.
Totals
4 Humpback Whales
2 Minke Whales
2 Bottlenose Dolphins
1 Sooty Shearwater
1 Wilson Storm Petrel
3 Greater Shearwaters
PHOTOS
Friday, August 23, 2019
A Spectacular Day with the Whales
What can you say about a trip where we saw 11 humpback whales, 2 other whale species and dolphins!
The trip started with cloudy skies and great visibility. We spotted whales agin within an hour of leaving Montauk and then usually had more than one in sight all day. Cruising southeast of Montauk we spotted the blows of humpback whales and watched them making short dives in shallow, 50 foot, water to feed on the baitfish below.
One humpback made a spectacular, full body, breach and then thrilled the passengers with some flipper slapping for some time.
We continued to see humpbacks throughout the area and then spotted 2 minke whales. One of the minkes popped-up about 10 feet from the boat.
A group of about 15 bottlenose dolphins, the inshore type, played around the boat for awhile, to the delight of the children aboard.
This day ended with whales all around the boat, humpbacks, a fin whale and a minke. After a humpback treated us to some tail slapping on the surface we were out of time and sadly had to head back home.
.

Totals
11 Humpback Whales
15 Bottlenose Dolphins
1 Fin Whale
2 Minke Whales
3 Cory Shearwaters

PHOTOS
Wednesday, August 28, 2019
Whales Close to Montauk
What started out as a cloudy and someone rainy trip turned into a productive day of whale watching. After less than an hour we spotted some big splashes in the distance- there was a whale breaching and flipper slapping. Unfortunately by the time we got to the area, with the overcast background, we were unable to find the whale. We continued on our way and suddenly came upon 2 humpback whales and 18 bottlenose dolphin. There was a lot of surface bait fish and the whales were feeding.The dolphins came into our area in 2s and 3s until there was a big group. They swam around the feeding whales for some time and some passengers got some special pictures with a whale and dolphin in the same photo! They showed us some fun behaviors such as leaping or "porpoising" out of the water. A minke whale joined this group and we got a few quick looks.
We continued on and found 2 more humpbacks and more minkes. As we headed back to Montauk several dolphins approached the boat, probably the ones we saw earlier in our trip, coming for one final good-bye.
TOTALS
4 humpback whales
3 minke whales
18 bottlenose dolphins

PHOTOS
Friday, August 30, 2019
A Beautiful Day with Whales all Around
Today was a sunny , beautiful day as we set out again in search of whales. We only had to round Montauk Point and cruise along the south shore for 40 minutes before seeing our first whale blowing. This turned out to be a humpback whale, in very shallow water (50 feet) making shallow feeding dives. The water was literally teeming with giant schools of bait fish, menhaden, at the surface. The whale was only going down for a bit over 2 minutes as its food was right at the surface.
Within a half hour we spotted several other blows and investigated. We watched these other 4 humpbacks feeding on and off for the rest of the afternoon.
Looking towards the beach we saw a pair of whales moving very closely together. Captain Dave brought the Viking Starship over to them and we were amazed to see they were fin whales- at one and a half miles from the shore, we had never seen this species so close to shore! This pair of medium whales, about 40 feet long, gave us several good looks as they too were feeding on the surface menhaden. Within the hour we saw quite a few other whales, more fins, humpbacks and a couple of minke whales.
The children aboard kept yelling with delight as whales surfaced over and over around the boat. We were running out of time when a humpback whale, as if to wave "good-bye", did a "down dive" and put its tail fluke up in the air before disappearing again.
Totals
7 humpbacks
5 fin whales
1 minke whale
PHOTOS
Sunday, September 1, 2019
Great way to end our season!
Great trip today started with a humpback whale 15 minutes past the lighthouse. Spotted two identified whales while watching this humpback. After leaving humpback whale we came across 2 Finback whales. Approximately 12 bottlenose dolphins joined the two Finback whales for a brief time. After leaving the Finback whales we came across our second humpback whale fluking several times. This whale also gave us some flipper slapping which everyone enjoyed. We continued our search for more marine life to find blows off in the distance from to different whales. Unfortunately unable to identify the whales as they disappeared as we approached.
Totals:
2 Humpback Whales
2 Finback whales
4 unidentified whales
12 bottlenose dolphins
PHOTOS