CRESLI Seal walk at Cupsogue Beach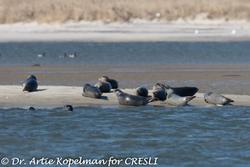 Organized by Arthur Kopelman
PO Box 54
West Sayville, US 11796
6313196003 (voice)
president@cresli.org (email)

Date / Time
Sunday, January 29, 2023
7:15 AM to 8:45 AM


Description
CRESLI seal walks at Cupsogue Beach County Park (975 Dune Road in Westhampton Beach; the far western end) will meet 15 minutes before the listed departure time from area near the fence at the western end of the parking lot. The walks are approximately 1.2 miles round trip and take about 1.5 hours. These walks are suitable for children. Please be advised that there are no bathroom facilities available at this park during the winter.
RESERVATIONS ARE REQUIRED!! CLICK ON THE "READ MORE NOW!" LINK BELOW
Please DO NOT PARTICIPATE IF YOU ARE SICK OR HAVE ANY COVID-19 SYMPTOMS. If you have been in contact with someone who is sick, please Stay Home!
Look for a sign or poster from CRESLI near the fence. Please be prepared for the COLD i.e., wear warm clothing in layers; wear long pants, hat, gloves, etc. Check the weather for Westhampton Beach and assume that the winds will produce wind chill. It's better to be a more-on, than a less-on, i.e., having more layers than you need is the right thing. I also suggest bringing water, binoculars, cameras, or a telescope and whatever else you might want need..
Who Should Attend
Open to all, reservations required
Procedures/Directions
• DONATIONS TO CRESLI ARE HELPFUL, BUT NOT REQUIRED, If you want to provide an online donation (suggested at $5.00/adult and $3.00/those under 18) follow the directions below o Please go to our Donate page (https://www.cresli.org/common/donations/donate.cfm?clientID=12000) and select "Other donation amount ($5.00 minimum)." Enter the amount you wish to donate. If you are unsure as to whether your donation will be seen, rest assure that it will, but please go to the "Honoree" section and instead of an "Honoree Name" – enter the particulars regarding your name and trip date.